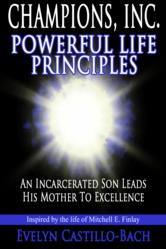 Black women exemplify the character of true champions.
Pembroke Pines, FL (PRWEB) September 20, 2012
It is rare to read a book about positive thinking that spotlights Black women as prime examples of excellence and achievement. "Champions, Inc: Powerful Life Principles" defies conventional practices and celebrates Black women as one of the best models we have for understanding what it means to be strong, focused, and goal oriented. Despite the prevalence of depicting Black women in popular culture as sexual objects, the take away in this new book is that Black women exemplify the character of true champions.
"It's Black women who are typically the best educated and the first to step up and elevate themselves and their children out of the doldrums of society and into a better life," writes debut author Evelyn Castillo-Bach, who is also the CEO of UmeNow and Collegiate Nation, two private social networks that have banned all tracking and all ads.
"Champions, Inc: Powerful Life Principles" is a real life story of how an incarcerated son and his mother face heartbreaking loss straight on to emerge as warriors and champions. It inspires, motivates, and leads to action. It's a manifesto for personal responsibility and taking back one's power, no matter what life throws at you. It's a straight forward, easy to read, summation of universal success and power principles communicated by an incarcerated son, wrongfully convicted, and facing a life sentence with no possibility of parole.
"Champions, Inc: Powerful Life Principles" was published on August 30, 2012, as an ebook, by UmeNow, LLC, available on Amazon, ISBN:978-0-9882220-0-7.
About the Author:
Evelyn Castillo-Bach is an entrepreneur and founder of UmeNow and Collegiate Nation. She was inspired to become an entrepreneur by her first-born son, who coached her from behind his prison cell to pursue her life purpose and live like a champion.
In July 2011, Castillo-Bach launched UmeNow, which followed the launch of Collegiate Nation. Both fiercely protect the privacy rights of its members. Castillo-Bach is an outspoken privacy advocate. She supports laws that protect consumers from unauthorized tracking, data miners, and data collectors. She launched UmeNow and Collegiate Nation as an ethical alternative to Facebook and other ad-based networks.
Castillo-Bach earned her M.S. in 1993 from Columbia University Graduate School of Journalism. She has traveled extensively in Ethiopia and in the Balkans, accompanying her Danish husband who is a lawyer.
Follow Castillo-Bach on Twitter or contact her directly on UmeNow.