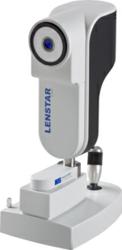 The new features add to the value of the device and improve the performance. All the well-established features remain and will not affect the high quality measurements which are synonymous with LENSTAR
Harlow, Essex (PRWEB UK) 20 September 2012
Haag-Streit UK, the leading manufacturer and distributor of gold-standard optometry and ophthalmic equipment, is excited to announce new improvements to the LENSTAR LS900 biometer.
The LENSTAR has become a leading brand in the market place for advanced optical biometry. It is the first optical biometer to incorporate lens thickness, which is the key parameter for creating the best IOL predictions. The new and exciting enhancements include improved image quality and an easier alignment procedure.
The previously green illumination has been replaced with white LED's which dramatically improve the image quality of the anterior chamber images. The white light illumination and improved depth of field provides the user with crystal clear images of the anterior segment of the eye. This change will complement surgical planning applications and TORIC IOL calculation.
To further improve the ease of use of the LENSTAR, and reduce testing time, a new feature for the alignment has been introduced. Instead of focusing roughly on the keratometry registrations, there are now four ring elements to achieve the correct operating distance. This makes the alignment of the LENSTAR easier and improves the speed of acquisition.
Sam Laidlaw, HS-UK Product Manager for the LENSTAR said, "The new features add to the value of the device and improve the performance. All the well-established features remain and will not affect the high quality measurements which are synonymous with LENSTAR."
The updated LENSTAR is now available to order. For more information please call Haag-Streit UK on (01279) 414969.