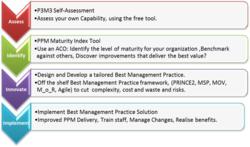 P3M3 assessments are useful to understand project capability. The new maturity index assess project complexity, identifies right practise & recommends areas for improving your projects too. So you invest in the most effective PPM improvement areas.
(PRWEB UK) 21 September 2012
Project Failure is relatively high across all industries, 90% of higher complexity projects fail with 50% of all projects fail to deliver; on time, in budget or the expected benefits. P3M3® is a maturity assessment tool used by CUPE to enable organisations to understand their strengths and weaknesses.
Maturity is seen as the key to improve project success. In absence of the systematic understanding of an organisations maturity, governance mechanisms are sub-optimal as a result of bureaucracy and blind spots. The London Underground has raised two maturity levels in three and half years, saving them £422 million using the P3M3 tool. Understanding the maturity level is the first step, companies that don't know their own level can inadvertently undertake higher complexity projects without adequate capability or capacity.
CUPE Projects is an ISO 9001:2008 accredited Project Management Training and Consultancy company. We are now offering P3M3 the APMG Project, Programme Management assessment tool, for organisations running Projects. David Roberts CUPE's registered consultant has worked with organisations of all sizes to develop maturity bespoke frameworks, achieve more value and deliver leaner project management.
CUPE Projects gained accreditation for APMG's P3M3, Change Tracker, Maturity Index, Complexity Assessment and Controls assessment in early 2012. P3M3 is a reference guide for structured best practice. It breaks down the broad disciplines of Portfolio, Programme and Project Management in to a hierarchy of key process areas. P3M3 is a tool for organisations that are looking to assess their maturity levels in order to increase project success and identify weakness in their organisation. The P3M3 tool can save money and deliver more for less which is essential for organisations running projects in a difficult climate.
P3M3 and the APMG Assessment Tool provide benefits to client organizations such as:

Use of an objective standard, a set of consistent questionnaires and scoring to determine a maturity level.
Better understanding of strengths and weaknesses in order to focus and prioritize improvements.
Independent verification, reduction in organisational bureaucracy.
Justification of Portfolio, Programme and Project Management improvements.
Gaining recognition of service quality to support proposals.
Participation in independent benchmarking.
P3M3 maturity index is used to determine the optimum level of organisational maturity and project control. CUPE have the ability to assess the complexity of organisations projects. The complexity profiles determine the type and level of controls that should be in place.
CUPE Projects can help your organisation conduct the P3M3 tools and advise improvements to increase your maturity level, resulting in savings and better project management.