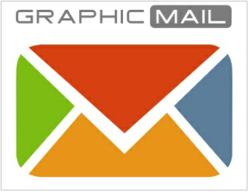 "With our integrated approach that includes social and mobile components, we have transcended email marketing and offered a true social - mobile - email - cloud experience".
(PRWEB) September 20, 2012
With GraphicMail's latest inclusions of Janrain Engage to allow social subscription to newsletters, along with its mobile site creator and shortcode marketing offerings, it has set itself apart from rivals vying for the attention of companies making use of digital communications with their clients. The cloud component is GraphicMail's main service offering to their clients. The ability to log onto your profile which holds all your information, reports and history of newsletters and previous sends, rendering the cloud environment service as the connective bind for the tri-platformed structure driving social, mobile and cloud proficiencies to clients.
As communication infrastructures have become (and will continue in this direction of becoming) software based, the prospect to apply them as a unified experience hosted by service providers, is the trend in marketing that has given rise for an integrated structure offered by a single vendor.
Social media, cloud capabilities and mobile technology has begun to merge and will alter consumer behaviour as the next big step in the digital domain of marketing. Businesses that are able to harness the influence of permeating information and distribute that material across social, mobile and cloud platforms will find have an advantage over their competitors in the industry.
"Applications like GraphicMail's digital marketing communications suite initiates conversations on different platforms to targeted end-users and engages them on their preferred communications mediums," said Barbara Ulmi, Marketing Head at GraphicMail. "With our integrated approach that includes social and mobile components, we have transcended email marketing and offered a true social - mobile - email - cloud experience".
In a study by Canalys, the end of 2011 saw more smartphones shipped, than PC's. This alone signals the rise of mobile computing and the inclination by consumers in doing so will only multiply within the next few years; ultimately shaping a new landscape in which to cultivate marketing communications.
Nielsen showed that in 2010, online users spent 22% of their time browsing social networks. This number has since nearly doubled. Actual commerce is becoming captivating today in public and private social systems. It has surpassed using LinkedIn for recruitment or Facebook for consumer marketing research. It is become a medium to interconnect and cooperate effortlessly with comprehensive systems of organizations, associates and customers.
Then the rise of cloud computing has seen an estimate of growth in excess of $240 Billion US Dollars by 2020 according to Forrester Research. The conversation is no longer one of outright rejection due to security and quality-of-service concerns. Instead, the discussion is about the right mix of capabilities for the business. Cloud computing has increasing sophistication and security in applications that have seen the ease of being able to retrieve information and content stored online with ease as well as a reliably more stable offering.
Seclusion to Synergy
All of these three platforms are persuasive in their own right. However, simply by observing at how 3 leading consumer-facing paradigms have merged . "GraphicMail felt it was imperative to implement the approach" Said Ulmi.
Social collaboration:
Google +, Facebook, social sharing, and social engagement create abundant prospects for efficiency.
Mobile:
Mobile distribution of email, shortcode marketing and mobile sites along with other critical applications is a basic necessity.
Cloud:
It offers the promise of faster development and delivery of services. Taken just unto itself, sure, there will be cost savings and faster iteration of new delivery services. But the beauty of the cloud is that you can seamlessly deliver services to multiple end-points such as tablets and PCs.
About GraphicMail
GraphicMail is a hosted email marketing solution which lets users design newsletters, manage contact lists and track campaign performance. The platform provides bulk email software that's easy and affordable enough for small businesses, yet powerful for large companies looking for a corporate-scale solution. GraphicMail offers mobile marketing services, such as bulk SMS / text campaigns and SMS sends with links to mobile sites that can be tracked and analyzed. They also offer social media integrations in the form of social sharing features and social data gathering tools. The company's email newsletter services has been used by customers such as, Shell, the American Medical Association and Dell Empower since 2002. The product is available in 11 languages and is represented by 20 offices globally.