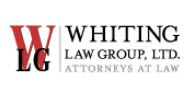 She brings a rare blend of experience, enthusiasm and aggressiveness to our clients. She is extremely detail oriented and motivated to do the necessary work that it takes to win our clients' cases."
Chicago, Illinois (PRWEB) September 25, 2012
Whiting Law Group, a Chicago-based law firm with offices in Southeast Wisconsin, specializing in truck accident litigation has hired attorney Sara Davis. Ms. Davis received her undergraduate degree and her J.D. from Marquette University in Milwaukee, Wisconsin. Carrying a full case load at Whiting Law Group, Ms. Davis will be representing clients in serious personal injury medical malpractice and nursing home negligence actions and trucking and auto accidents.
"I made the decision to join Whiting Law Group for their stellar reputation of what they do for their clients as well as the philanthropic work that the founding member and managing partner Timothy Whiting does," said Ms. Davis. "I spent six years as a defense attorney and can offer the approach that the defense attorneys will take on our clients' cases. Because of my defense experience, I have a unique understanding and advantage on how to best strategize for my clients. I am delighted to be a member of the Whiting Law Group and starting this new stage in my legal career.
"We are really excited to have Sara here," said Mr. Whiting. She brings a rare blend of experience, enthusiasm and aggressiveness to our clients. She is extremely detail oriented and motivated to do the necessary work that it takes to win our clients' cases."
Ms. Davis graduated in the top third of her law school class and was a member of Marquette University's Moot Court and was the recipient of the Computer Assisted Legal Institution (CALI) Award for Trial Advocacy. She is a member of the Women's Bar Association, a volunteer lawyer at Chicago Volunteer Lawyer Services and a tutor at the Chicago Literacy Association.
About Whiting Law Group
Whiting Law group is an Illinois and Wisconsin based law firm concentrating its practice in serious personal injury matters, trucking accidents, wrongful death and medical malpractice actions. Founded in 2001 by partner Timothy M. Whiting on the foundation of dedication, hard work and passion, Whiting Law Group offers the highest quality of service to their clients.
With a 96% success rate of earned recoveries in their cases, Whiting Law Group consistently achieves positive financial awards for their clients, many times resolving their cases in less than 24 months