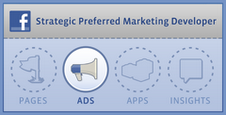 New York, NY (PRWEB) September 20, 2012
SocialCode, the leading social marketing solutions partner, today announces it has been named Strategic Preferred Marketing Developer (PMD), the highest distinction of excellence offered as part of Facebook's Preferred Marketing Developer Program.
SocialCode is being recognized for exceptional work as a Facebook Preferred Marketing Developer, adhering to strategy and collaboration valued in the Preferred Marketing Developer Program. This acknowledgment indicates Facebook's intent to deepen the working relationship with SocialCode and includes a commitment to offer enhanced and prioritized Facebook services, including access to alpha and beta product trials and product planning sessions.
"We are honored that Facebook has included us in this highly esteemed category of their marketing developer program," said Laura O'Shaughnessy, CEO of SocialCode. "We value our relationship with Facebook and look forward to an even closer association, allowing us to bring the most advanced Facebook marketing capabilities to our clients as early as possible."
# # #
About SocialCode
SocialCode (http://www.socialcode.com), is the leading social marketing solutions partner dedicated to driving cross-platform social ROI. Our capabilities are rooted in the advanced research of SocialCode Labs, empowering advertisers with unmatched campaign performance and community insight. Fueled by proprietary technology, SocialCode grows qualified communities, engages those audiences and activates them as customers and brand evangelists —for 30% of the top national advertisers. SocialCode is a subsidiary of The Washington Post Company.
Media Contact:
Erika Rieger
814-931-6607
Erika(at)socialcodeinc.com