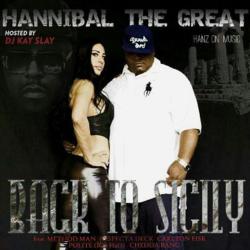 Rapper, Hannibal the Great brings Wu Tang flavor back to Hip Hop music.
Park Hill, Staten Island, NY (PRWEB) September 25, 2012
Hannibal the Great dropped his Mixtape Back to Sicily hosted by the Drama King DJ Kay Slay aka Slap your favorite DJ this week. Free downloads are available on the Hanz on Music web site at http://www.hanzonmusic.com. Artists featured on the mixed tape include Method Man, Inspectah Deck, Carlton Fisk, Easy, Polite & Ice Water. Along with three hot remixes are nine original songs including the singles Boom We Did It, Hoodlums & Dying Rich. The video for Boom We Did It can be viewed on youtube. The Mixtape release party will take place on Friday October 5th at the Hanz On Music offices, a 2500 square foot industrial loft with rooftop and harbor & Verrazano Bridge views located at 691 Bay Street Staten Island NY 10304. To be included on the guest list email ettore(at)hanzonmusic(dot)com.
The first release on the Hanz On Music label, Method Man presents Hanz on Hannibal the Great will be released on Thanksgiving Eve November 21. His new single "Where Ya Hands Been" is bold, genuine & ferocious. Method Man is featured on the single "Shining Star" The album also features Ghostface Killah, Capodonna & Inspectah Deck. A limited artist signed edition is available for pre sale on the Hanz on Muisc web site. The video of the single "Shining Star" can be viewed on the Hanz on Music web site and youtube.
Anthony "Jazz" Messado better know as Hanz on Hannibal the Great is an American Hip Hop artist and songwriter from Park Hill, Staten Island. He is an affiliate of the legendary Wu Tang Clan collective. Hannibal toured with Wu Tang on the Rock the Bells 2006 tour. Hannibal was also featured on the Raekwon presents "Polluted Water" LP in 2007. He also toured with Wu Tang on Rock the Bell tour in 2008 & Wu Tang 8 Diagram in 2010. Hannibal the Great released "Out of the Chefs kitchen on Raekwons Ice Water label in 2010 which is available for sale at the Hanz on Music store.
The second release on the Hanz on Music label, "Method man presents Carlton Fisk" will drop in the spring of 2013. Carlton Fisk a multi platinum Hip-Hop artist whose flow kidnaps listeners and throws them in a van straight to the underground world of Staten Island. Born & raised in the Park Hill section of the Island, Fisk's lethal lyrics have stood their ground & rumbled with the likes of some of the Wu-Tang Clan's best standout artists, including Method Man & Inspectah Deck.
Hannibal the Great & Carlton Fisk are appearing live at SoleCon3, Brooklyn biggest Hip-Hop & Sneaker event ever to hit Brooklyn on Sunday October 7th at St Francis College 180 Remsen Street.
Hanz On Music artists supports their neighborhood of Park Hill by giving back to the community. There latest efforts was buying book bags and school supplies for neighborhood kids in need. They worked along with the Brighton Heights Reformed Church and Alpha Kappa Sorority, Inc to put smiles on the our faces of a few dozen kids.
"Hannibal the Great is official, gritty Hip Hop. I never pushed anyone, but I will push him." Method Man / Grammy Award Winner
"Look out for that masterpiece in 2012, Hannibal the Great" Masta Killa / Wu Tang Clan
About Hanz On Music
Hanz On Music, your source for Hip Hop & R&B http://www.hanzonmusic.com is a full service record label offering music on line and in retail stores, mixtape & video production, touring, bookings & artist merchandise.
Contact: Hanz on Hannibal the Great Hanz On Music
hanz (at) hanzonmusic (dot) com
347 858 1834
Press Contact: Ettore Mazzei Hanz On Music
ettore (at) hanzonmusic (dot) com
347 723 1825