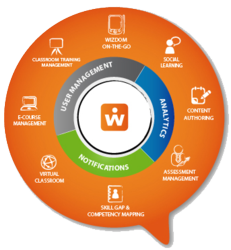 An LMS's utility is different for every organization and we as LMS providers have the responsibility to make sure that the organization is able to derive that utility best. - Manish Gupta, CEO G-Cube
(PRWEB) September 20, 2012
G-Cube worked with North American Society for Pediatric Gastroenterology, Hepatology and Nutrition (NASPGHAN) Foundation to develop a learning platform to facilitate dissemination of their resources. NASPGHAN is an accredited non-profit organization that provides continuing education for physicians and medical practitioners. They also have a rich resource of educational material for the general public to create an awareness of gastroenterological diseases and the ways of coping with them.
While the educational material was made available free on their website, NASPGHAN wanted a learning platform that would make e-courses available to learners and be able to track traffic accessing the courses. WiZDOM LMS was implemented to provide a detailed account of number of people accessing the learning material and generate automated reports for the same. This provided the client with a clear estimate of how popular a course was, making way for improvements wherever needed. Reports generated were also utilized to demonstrate to various funding agencies the effectiveness of courses. This created an accountability of funds directed towards creating similar courses.
Manish Gupta, CEO of G-Cube says, "An LMS's utility is different for every organization and we as LMS providers have the responsibility to make sure that the organization is able to derive that utility best. This can be achieved by a close understanding of the client needs and making sure that the LMS addresses them well. Even if the needs are basic, fulfilling them is what benefits the organization and creates effectiveness of the LMS."
About us
G-Cube Solutions is a leading CMMi Level 3 e-Learning products and services company – with a global delivery and support footprint. Over the last decade, G-Cube has helped hundreds of customers worldwide and across diverse domains.
G-Cube's product portfolio includes our cutting edge WiZDOM Learning Suite, which comprises LMS, Virtual Class Room, Content Authoring Tool, Assessment Engine, and Skill Gap and ILT management systems. Content services include designing and developing custom e-courses, mobile learning, content localization, game-based learning, simulations, and consulting for curriculum design.
With its focus on innovation and 'WoWing' the customer, G-Cube has won various industry awards, such as the Deloitte Tech Fast 50 India Award for the last three consecutive years, multiple Brandon Hall Awards for Excellence in Learning and Technology, the NASSCOM Emerge 50 Award, and the Apex Award for Publishing Excellence.
About NASPGHAN
NASPGHAN is a non-profit organization based in U.S.A which strives to improve the care of infants, children and adolescents with digestive disorders by promoting advances in clinical care, research and education. It provides continuing training for medical professionals specializing in diseases of the gastrointestinal track and the liver. It also believes in creating awareness among patients, care-givers and the general public about diseases, the treatment options and coping mechanisms to deal with them.
For more info please visit: http://www.naspghan.org