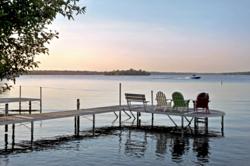 Visit Delafield, Wisconsin, to enjoy fall hiking and biking, an autumn golf getaway, and to experience the Wisconsin fall color first-hand.
Delafield, Wisconsin (PRWEB) September 21, 2012
Celebrate the color changing autumn leaves and and the great outdoors with a visit to Delafield, Wisconsin, a lively city set in Southeastern Wisconsin's "Lake Country." Just 30 minutes west of Milwaukee, Delafield offers no shortage of adventures during a season of which many would argue is Wisconsin's most magnificent -- Fall! A convenient launching point for days filled with new adventures, the City of Delafield is set amid a vibrant community of trendy boutiques, well-known stores, restaurants, many family-friendly events, and the natural beauty of the Wisconsin fall color.
Exploring the Lakes and Rivers
Delafield has an abundance of natural resources for outdoor enthusiasts. Beautiful Nagawicka Lake is in the center of the city, and a prime fishing location to find satisfying bass, pike and walleye. Explore in a kayak, sailboat, or for a new way to explore the lake, rent a paddleboard in downtown Delafield. Nearby, the thirty other lakes give you unlimited water recreation options.
Fall Hiking and Bike Trails
Land-lovers can spend the day on premier hiking and biking trails which wind through prairies, woods, and towns. Take in deep breaths of the crisp, fall breezes in the Kettle Moraine State Forest - Lapham Peak Unit, which has six scenic hiking and biking trails and a 45' observation tower with radiant autumn vistas that go on forever. The Ice Age, Glacial Drumlin, Lake Country, and the connecting Cushing Park Road Recreational Trail also give bikers, hikers, runners, and inline skaters much to explore.
Autumn Golf Getaway
Take in the fall colors of yellow, red and orange while your out on the luscious green fairways of a golf course. The Naga-Waukee War Memorial 18-hole golf course, perched above the nearby lakes, offers outstanding playability for scratch golfers and beginners. Or tee off at other area courses, including Erin Hills, the site of the 2017 U.S. Open!
Book your stay to experience Wisconsin's fall color in Delafield
To enjoy all of the adventures in the City of Delafield, make reservations at one of the city's four hotels: the luxurious Delafield Hotel, the well-known Holiday Inn Express Hotel & Suites, and La Quinta Inn & Suites, or the Country Pride Inn.
Throughout the city, shop dozens of brand-name retailers and boutique shops, offering apparel, home décor, sporting goods, electronics and more. Liven your taste buds with a sample of decadent chocolates, artisan breads, the area's only premium olive oil and balsamic vinegar tasting store. Or, sit down for breakfast, lunch and dinner at the delicious restaurants in Delafield.
Travelers and tour groups looking for fall getaway ideas, travel planning, events, and guides to the area can be discovered at VisitDelafield.org. Choose to "Like" the Delafield Chamber/Tourism at Facebook.com/VisitDelafield, follow along on Twitter at Twitter.com/VisitDelafield or call 1-888-294-1082. Make travel plans to enjoy Southeastern Wisconsin's glorious fall season in the City of Delafield.