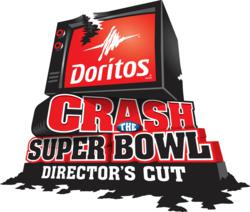 New York, NY (PRWEB) September 20, 2012
Football season is in full force, which can only mean one thing: Doritos is getting ready to Crash the Super Bowl. Following six previous contests, $5 million in prize money awarded and three No. 1 USA TODAY Ad Meter rankings, the Doritos brand is doing the unthinkable for the seventh anniversary of the program — announcing the biggest, boldest contest grand prize to date: an opportunity to work with acclaimed Hollywood film director Michael Bay on the next installment of the "Transformers" movie franchise, along with a shot at a $1 million bonus. From Paramount Pictures and Hasbro, the next installment in the hit series will be released on June 27, 2014.
As in previous years, consumers are encouraged to create homemade Doritos ads, and then it's up to America to vote for the lucky fan finalist who will have the opportunity to see their ad air during the big game, as well as win the grand prize career opportunity.
The finalist whose ad scores highest on the USA TODAY Ad Meter rankings will be awarded the grand prize-career opportunity working with Bay. In addition, if a consumer-generated Doritos ad scores No. 1 on theUSA TODAY Ad Meter, the creator will be awarded with a $1 million bonus.
"Having started my career in the advertising business, creating television spots and trying to make a name for myself, I can definitely relate to those who enter the Crash the Super Bowl contest," said Bay, who began directing commercials and music videos one week out of film school in 1989. "I know firsthand how challenging it can be to succeed in such a competitive industry, so I'm excited to help someone else truly make a name of their own."
The Super Bowl XLVII broadcast is set for Sunday, Feb. 3, 2013, on CBS. Participants can enter this year's contest on the Doritos Facebook Page by uploading 30 second commercials that share their love for Doritos tortilla chips from Oct. 8, 2012 to Nov. 16, 2012 at http://www.facebook.com/DoritosUSA.
Downloadable video and images available to the media at: http://www.magicbulletmedia.com/MNR/crashthesuperbowl
About Doritos
Doritos tortilla chips is one of the billion-dollar brands that make up Frito-Lay North America, the $13 billion convenient foods business unit of PepsiCo, which is headquartered in Purchase, NY. To learn more about the Doritos brand, visit its website at http://www.doritos.com or on Twitter at http://www.twitter.com/DoritosUSA or on Facebook at http://www.facebook.com/DoritosUSA.