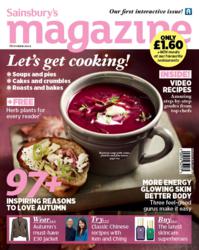 'It's fantastic to be able to shepherd Sainsbury's magazine into the digital age and go multichannel–meaning existing readers and customers can experience the magazine content on the platform of their choice" Dave Castell, Digital Director, Seven
(PRWEB UK) 21 September 2012
The digital edition of the branded magazine, produced by Seven, is available now on iPhone and iPad through Apple's Newsstand section of the App store, as well as compatible Android devices through the 'Exactly App' on Google Play.
The digital edition, the result of a collaboration between Exact Editions, the web services company, and award-winning content marketing agency Seven, is available as a freemium app, with a range of pages available free of charge, giving readers a taste of the much-loved magazine before a subscription is bought.
Subscribers to the digital edition will be able to access the current magazine as well as an archive of back issues from January 2011. The issues are all fully searchable, so there is no need to thumb through pages of the magazine looking for that elusive avocado recipe any more – plenty appear at a tap of the keyboard. The archive is displayed employing Exact's new 'stacking' technology which displays the back issues in 'stacks' of years that can be 'unfolded' into individual issues. That's not all – from November's issue onwards, subscribers will be able to access up to three exclusive videos in each issue.
Daryl Rayner, Managing Director of Exact Editions, says: 'We are delighted to be working with Seven and Sainsbury's Magazine on their branded app.' The iPad's retina display means that the recipes are even more mouthwatering!'
Dave Castell, Digital Director at Seven, says: 'It's fantastic to be able to shepherd Sainsbury's magazine into the digital age and go multichannel – meaning existing readers and customers can experience the magazine content on the platform of their choice, and a whole new generation of readers can have a unique digital experience through tablet or mobile. Along with the recent Sainsbury's Magazine blog launch and innovative video and commercial AR activity, this is part of a triumvirate of digital firsts for the magazine, blending Seven's world-class content creation with the most pioneering digital technologies at our disposal.'
Susan Kelly, Trade & Consumer Marketing Manager at Seven, says: 'It has been great teaming up with Exact Editions on the Sainsbury's Magazine App. We are very pleased with how smooth the whole process has been.' The October issue features exclusive how-to videos from top chefs Mark Hix and Sam Harris, a special message from editor, Helena Lang, competitions and additional content to engage readers.
With an ABC of over 244,000, Sainsbury's magazine, produced by Seven, now has more readers than any other monthly glossy paid-for magazine, making it the UK's widest-read, fully paid-for monthly in Britain, with just under 4 million readers every month (NRS).
About Exact Editions
Exact Editions is a digital publishing company based in London. We're a team of producers, developers and designers who work hard to turn magazines into dynamic and user-friendly digital editions. We make magazines available for reading online, on iPad, iPhone and Android mobile devices. Visit http://www.exacteditions.com for more info.
About Seven
Seven is an award-winning multichannel content agency. Experts in creating intelligent, relevant and effective content across multiple channels, including magazines, websites, social media, interactive ezines, video, iPhone and iPad apps. Clients of Seven include Sainsbury's, CIMA, English Heritage, Grant Thornton, Guardian Media Group, Lloyds Banking Group, Aviva and Medtronic.
Press Contacts
Shareena Ali PR, Seven
shareena.ali(at)seven(dot)co(dot)uk
+44 207 775 5549
Sarah Bush, Digital Marketing Executive, Exact Editions
sarah.bush(at)exacteditions(dot)com
+44 207 837 4801