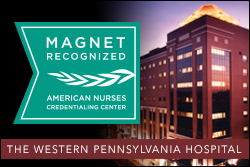 "The Magnet process continually stimulates a culture of collaboration focused on providing high-quality patient care," said Paula Lacher.
PIttsburgh, PA (PRWEB) September 21, 2012
The Western Pennsylvania Hospital has attained Magnet® recognition for the second time as part of the American Nurses Credentialing Center's (ANCC) Magnet Recognition Program®. Magnet recognition is the highest national credential for nursing excellence. With this redesignation, West Penn Hospital retains its place among the best of the best as part of the Magnet community—a select group of 395 healthcare organizations out of nearly 6,000 in the United States. It is also the first hospital in the Pittsburgh region to be redesignated after earning its first designation in 2006.
"Magnet recognition is a tremendous honor and reflects our commitment to delivering the highest quality of care to this community and beyond," said Duke Rupert, President and Chief Executive Officer, West Penn Hospital. "Not only are we one of just 23 Magnet hospitals in Pennsylvania and the first hospital in the region to achieve redesignation, we did so during a period of significant organizational change and transition."
Magnet recognition has become the gold standard for nursing excellence and is taken into consideration when the public judges healthcare organizations. In fact, U.S. News & World Report's annual showcase of "America's Best Hospitals" includes Magnet recognition in its ranking criteria for quality of inpatient care.
To achieve initial Magnet recognition, organizations must pass a rigorous and lengthy process that demands widespread participation from leadership and staff. The process begins with the submission of an electronic application, followed by written documentation demonstrating qualitative and quantitative evidence regarding patient care and outcomes. If scores from the written documentation fall within the range of excellence, an on-site visit will occur to thoroughly assess the applicant. After this meticulous on-site review process, the Commission on Magnet will review the completed appraisal report and vote to determine whether Magnet recognition will be granted.
An organization seeking to reapply for Magnet recognition must provide documented evidence of how Magnet concepts, performance, and quality were sustained and improved over the period since the hospital received its initial recognition. In particular, the Magnet model is designed to provide a framework for nursing practice, research, and measurement of outcomes. Through this framework, ANCC can assess applicants across a number of components and dimensions to gauge an organization's nursing excellence. The foundation of this model is composed of various elements deemed essential to delivering superior patient care. These include the quality of nursing leadership and coordination and collaboration across specialties, as well as processes for measuring and improving the quality and delivery of care.
Magnet recognition has been shown to provide specific benefits to hospitals and their communities, such as:

Higher patient satisfaction with nurse communication, availability of help, and receipt of discharge information;
Lower risk of 30-day mortality and lower failure to rescue;
Higher job satisfaction among nurses;
Lower nurse reports of intentions to leave position.
"Our journey to achieve Magnet redesignation required perseverance and dedication of every member of our team, particularly under circumstances of change. Our leadership and entire staff embraced the challenges of Magnet redesignation. Our journey to redesignation raised the bar and inspired our entire institution to achieve excellence in patient care and service," noted Vice President and Chief Nursing Officer, Paula Lacher, MSN, RN, NEA-BC. "We're a better institution today because of the Magnet recognition standards. The Magnet process continually stimulates a culture of collaboration focused on providing high-quality patient care."
###
About The Western Pennsylvania Hospital:
An affiliate of the West Penn Allegheny Health System (wpahs.org), The Western Pennsylvania Hospital is a 292-bed academic medical center located in Pittsburgh's historic Bloomfield community. The institution has been regionally and nationally recognized for excellence in nursing, bone marrow and cell transplantation, bariatric surgery, and burn care. It is also a hub for specialty women and infant services, including a Level III neonatal intensive care unit, genetic counseling, reproductive medicine, and more.
West Penn Hospital is the first hospital in Pittsburgh and western Pennsylvania to be awarded Magnet recognition status by the American Nurses Credentialing Center in 2006 and the first to receive redesignation in 2012. This prestigious four-year designation recognizes excellence in nursing.
About the American Nurses Credentialing Center's (ANCC) Magnet Recognition Program®:
The Magnet Recognition Program® administered by the American Nurses Credentialing Center (ANCC), the largest and most prominent nurses credentialing organization in the world, recognizes healthcare organizations that provide the very best in nursing care and professionalism in nursing practice. The Magnet Recognition Program® serves as the gold standard for nursing excellence and provides consumers with the ultimate benchmark for measuring quality of care. For more information about the Magnet Recognition Program® and current statistics, visit http://www.nursecredentialing.org/magnet