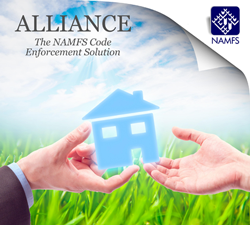 Stow,OH (PRWEB) September 24, 2012
The National Association of Mortgage Field Services (NAMFS), continues to increase usage of ALLIANCE – The NAMFS Code Enforcement Solution. NAMFS is able to provide a uniquely independent platform to improve communication regarding vacant properties and combat blight within our communities. Since its initial release, participation within both the code enforcement and mortgage field service communities has steadily increased. Thus far the Code Enforcement Solution has served over 1000 code enforcement officials in over 350 unique jurisdictions nationwide.
Twelve national mortgage field service companies use the full version of ALLIANCE on a daily basis to resolve code violations in a timely manner. These companies include America's Infomart, Assurant, Bank of America Field Services, CoreLogic Field Services, Field Asset Services, Five Brothers, LPS Field Services, Mortgage Contracting Services, MSI, Spectrum Field Services, and White Van Real Estate. Violations that are unclaimed by any of these companies are then sent weekly to companies such as Safeguard Properties, National Field Representatives, M&M Mortgage, Miken Construction, A2Z Field Services, Altisource, 3 Point Lender Services, and Cyprexx. This increase has enabled the program to thrive and evolve to more closely meet the needs of the industry.
This free, real-time, web-based tool, located at NAMFS.org facilitates and streamlines communication and collaboration between officials and national field services providers for the mortgage servicing industry. Users in the code enforcement community are able to input property-specific information including code-related issues, comments, photos and potential fines if not addressed. Field service users receive this information and either initiate contact with the appropriate code enforcement officer or indicate they do not service the property.
Getting started with ALLIANCE is easy and code enforcement officials can complete the process in less than 15 minutes. Webinars are also available upon request to demonstrate the program and its offerings to individuals as well as large groups. To begin using this valuable service or to obtain additional information regarding ALLIANCE, please visit the ALLIANCE page on NAMFS.org.
The National Association of Mortgage Field Services, Inc. (NAMFS) is the premier trade association for the mortgage field service industry. We are dedicated to working with all entities of the industry from the Government Agencies and investors that set policy to the contractors and inspectors that perform the work.