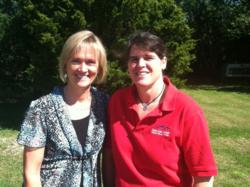 Getting you back on your feet and into the game!
Mashpee, MA (PRWEB) September 24, 2012
Cape Cod Rehab is proud to announce that Kathryn Carroll PT DPT and T.C. Cleary PT DPT SCS have been awarded Doctorate in Physical Therapy degrees from the EIM Institute of Health Professions, Louisville, KY.
Carroll and Cleary earned a Transition DPT in Musculoskeletal Management. According to the EIM Institute of Health Professions, this Doctorate program allows students to receive the highest caliber of training and to become distinguished leaders in evidence-based orthopedic and manual physical therapy practice. Some of the courses they completed include Management of Upper and Lower Extremity Disorders, Management of Lumbosacral Disorders, and Management of Cervical and Thoracic Disorders.
Carroll, a graduate of Northeastern University residing in West Barnstable, is the Administrative Director and co-owner of Cape Cod Rehab Physical Therapy and Fitness. She enjoys working with patients of all ages and works with all types of orthopedic injuries with special interest in aquatics.
Cleary, a resident of Centerville, is also a graduate of Northeastern University and has worked with Cape Cod Rehab for over 20 years. She is a Certified Burdenko Method Instructor, licensed EMT, and one of the select few PTs in Massachusetts to be Board Certified in Sports Physical Therapy. Cleary has a special interest in Anterior Cruciate Ligament (ACL) Injury Prevention & Treatment, Concussion Management, and particularly enjoys working with high school and college athletes.
Locally owned and operated, Cape Cod Rehab has locations in Mashpee, Osterville and Hyannis and will celebrate its 25th anniversary in 2013. Specializing in Orthopedic and Sports Injury Physical Therapy, medical exercise prescription, conditioning and training of athletes, their motto is "Getting you back on your feet and into the game!" For more information, visit our website.