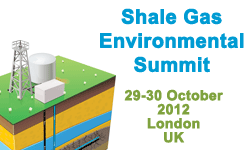 London (PRWEB UK) 23 September 2012
It has been predicted that UK offshore reserves of shale gas could exceed one thousand trillion cubic feet, putting the UK in the same realm as other countries with leading shale gas potential worldwide like China, the United States and Argentina. Most experts agree that recoverable reserves in the UK are likely to be big enough to make Britain energy self-sufficient.
However, debate on the impacts of hydraulic fracturing still rages on with critics alleging that the environmental risks posed are too great. Opposition groups have cited cases of groundwater pollution and small earth tremors as arguments against shale gas extraction.
Against this backdrop, SMi Group is pleased to announce that two new speakers from leading global sustainability consultancy AEA will join the next session of the Shale Gas Environmental Summit. Mark Broomfield will present AEA's research into methane control, environmental risks and regulatory challenges which will result from shale gas exploration and extraction in Europe. He will be joined by Betsy Bicknell from AEA's North American subsidiary Eastern Research Group (ERG). ERG is a leading consultant to the United States Environmental Protection Agency, and Betsy, a senior environmental engineer, will present the latest developments in the re-use of produced water in the Marcellus Shale.
Robert Bell, Director AEA Europe, said: "AEA is at the forefront of dealing with regulatory issues posed by shale gas development in the US, the UK and throughout Europe. We are very pleased to support the Shale Gas Environmental Summit at this critical time in the industry's development in Europe."
SMi Group's third Shale Gas Environmental Summit will present a balanced view of the Shale Gas debate, focussing on science, facts, and case studies from: Total, Ground-Gas Solutions, AEA, CNG Services Ltd, GFZ German Research Centre for Geosciences, MND a.s., WWF-UK, RSPB plus many more.
For more information and to register, visit http://www.smi-online.co.uk/2012shale45.asp
About SMi Group: The SMi Group is a highly Professional, Independent and Global event producing company that specialises in Business to Business Conferences, Workshops and Masterclasses and online Communities. We create and deliver events in Defence, Security, Energy, Utilities, Finance and Pharmaceutical industries. Our aim is to provide you with the Highest Quality Events in Defence, Security, Energy, Utilities, Finance and Pharmaceutical sectors, which are timely, relevant and important to you and your company!
We are Experts in knowing Experts and have been bringing you this Expertise since 1993!