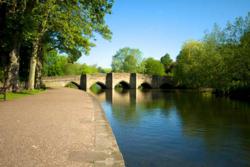 We are currently overhauling our Peak District Villages section on the website
Peak District, UK (PRWEB UK) 21 September 2012
As a successful summer draws to a close, the team at Peak District Online concentrate their energies on revamping an old tradition. Their popular pages featuring Peak District villages are getting a makeover, and the directors of the company invite their online readers to promote local businesses and advertise events in a grand designs fashion.
"We are constantly adding and updating Peak District Online's information and with the end of summer here, we find we have more time to spend on making sure we are as up-to-date as possible," explains Steve Wake, one of the directors at Peak District Online." We are currently overhauling our Peak District Villages section on the website, which is quite a task when you have to consider there are a lot more villagers in the Peak District than you may think."
Providing the latest information about those areas, and adding anything relevant a visitor to the area may find useful, Peak District Online's team of researchers, photographers and writers are busying themselves sourcing news, local stories and folklore as well as researching the history of each village.
"We are starting with Bakewell, Matlock and Matlock Bath and would love to have any input into what you would like to see information about in those areas. In fact if you have any information relevant to any of the Peak District villages, then please let us know and we may be able to include it on our site," says Steve.
What started out as a small family run company has now turned into a monster of a website with a dedicated team who have made it their mission to uncover past and present information on all the villages in the National Park. News as it happens and articles about the area are added on a daily basis, and brand-new pages are put on featuring stories, legends and folklore, as well as highlighting the history and community spirit of each Peak District village. As well as offering the UK's largest Peak District Cottages directory, the website is growing from strength to strength each week.
"We really want to promote our website to the local community, to help local businesses in such a hard time, and to help those people who live in rural Derbyshire, who can sometimes feel a little cut off from the world," says James Dobson, fellow director at PDO. "We have hundreds of e-mails each day, from readers of our website but also, more importantly, from those people who live and work in this gorgeous area. We do all we can to feature as much as we can about each village, but sometimes it's inside information that we need and what better way to find it than to invite the local community to offer up any little nuggets they may know. Anything that we haven't already found out and reported on yet is most welcome."
Passionate about the Peak District, the team at PDO launch stunning new pages dedicated to each town or village and accompany all the written information with stunning photographs taken by the directors.
"We're a family here at Peak District Online and we would love to hear from families in the Peak District. We want people who can share their stories and offer up their own information to pass on to visitors who may not know the secrets of each Peak District village," says James.
Any Peak District event information should be sent to the team at http://www.peakdistrictonline.co.uk as soon as possible, so new pages can be added each day to the popular Peak District Villages section.