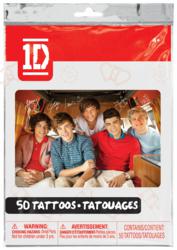 Savvi will be promoting temporary tattoos and stickers for the extremely popular boy group 1D. In addition to new licenses, Savvi plans to unveil a brand new play pattern at this year's Fall Toy Preview: Savvi Magic Art Scratchers
Tucson, AZ (PRWEB) September 25, 2012
Savvi, a leading US manufacturer of printed novelty products, is excited to premiere new toy products and licenses at the 2012 Toy Industry Association Fall Toy Preview® in Dallas, TX.
Savvi will be promoting temporary tattoos and stickers for the extremely popular boy group 1D. Savvi has partnered with TCG, who has acquired global rights for 1D, to distribute temporary tattoos and stickers exclusively for the US market. 1D is a new addition to Savvi's large portfolio of existing licenses, which includes Disney, Marvel, Warner Brothers Teenage Mutant Ninja Turtles and Hello Kitty.
In addition to new licenses, Savvi plans to unveil a brand new play pattern at this year's Fall Toy Preview: Savvi Magic Art Scratchers. These fun, interactive scratch off posters are a unique addition to the craft and toy market. Designed for kids, ages four to eight, Savvi Magic Art Scratchers are available in an assortment of creative designs for boys and girls.
As always, buyers will be "WOWed" by Savvi's updated, on-trend, innovative line of products at this years show. Savvi's new line-up will include licensed ColorUps coloring posters, Sparkle activity kits and their extremely popular Magic Paint Posters. All Savvi products are made in the USA, and exceed US & European safety standards. Savvi invites buyers at the Fall Toy Preview to come by booth #2002 on the 12th floor to experience the exciting new 2013 toy selection.
ABOUT SAVVI
Savvi is a premier US manufacturer of printed novelty products. Savvi products are sold internationally at major discount retail, grocery, craft supply and toy stores. In addition to being the world's largest manufacturer of temporary tattoos, Savvi also produces a wide variety of craft and children's activity products. Savvi designs and manufactures all products in the USA at its Tucson, Arizona headquarters. Products are non-toxic, hypoallergenic, use FDA certified colorants and comply with CSPC and ASTM requirements. All products exceed US, Canadian and EU safety standards. More information is available at http://www.savvistuff.com.