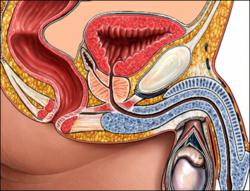 As with most cancers, the key to a favorable outcome is early detection.
Atlanta, GA (PRWEB) September 21, 2012
The U.S. Department of Health and Human Services selected September as National Prostate Cancer Awareness month. Excluding skin cancer, the CDC states that prostate cancer is the most common form of cancer in men, regardless of ethnicity and that more than 200,000 cases are diagnosed annually in the United States. Prostate cancer occurs mainly in older men, with nearly two thirds of the cases being diagnosed in men aged 65 or older.
While prostate cancer can be a serious disease, most men do not die from it. Statistics show that while one in six men will be diagnosed with the disease, only about one in 36 cases are fatal.
Dr. Scott Miller is the President and Founder of ProstAware in Atlanta, an organization dedicated to educating men about prostate health through music and technology. Dr. Miller stated, "As with most cancers, the key to a favorable outcome is early detection. That's why we encourage men to monitor their prostate health." He added, "This involves annual screenings beginning at age 40, which includes a digital rectal exam and a simple blood test."
ProstAware publishes a guide to possible symptoms men should be aware of on their website, ProstAware.org. These include a slow or frequent urinary stream, painful urination, blood in the urine and/or pain or blood during ejaculation.
Nucleus Medical Media is committed to its mission of global health literacy and is offering a free informational electronic brochure entitled "Understanding Prostate Cancer" as well as providing links to view full-color, 3D animations detailing various treatment options for prostate cancer, to interested consumers.
Ron Collins, Nucleus CEO, stated, "Nucleus Medical Media remains committed to raising global health literacy and is extremely pleased to share our prostate health content during Prostate Cancer Awareness Month."
To receive free educational prostate health content, email Nucleus at ProstateHealth(at)nucleusinc(dot)com with "Prostate Information" in the subject heading.
For further comment, contact Ronald Collins, CEO and Co-founder of Nucleus Medical Media, at rcollins(at)nucleusinc(dot)com or (770) 805-0460
About Nucleus Medical Media
Founded in 1997, Nucleus Medical Media, Inc. is an award-winning creator of medical illustrations, medical animations, and interactive multimedia for the publishing, legal, healthcare, entertainment, pharmaceutical, medical device, and academic markets. Nucleus's clients and partners include WebMD, McGraw-Hill, Dr. Oz, EBSCO Publishing, and thousands of other businesses in new and traditional media. Nucleus employs the world's largest team of graduate-degreed medical illustrators, and has a Medical Review Board with more than 75 physicians and nurses. For more information, visit http://www.nucleusinc.com/aboutus.php