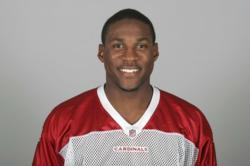 I really got into cars when I was about thirteen years old and my father and I used to go to Moroso drag strip right outside of Palm Beach, FL, said Peterson.
Nashville, TN (PRWEB) September 20, 2012
Cardinals cornerback Patrick Peterson talks shop in his video blog on SOTL.com, where he shares his passion for cars. This week, Peterson gives fans a tour of his garage and a little background on how he developed such a strong interest in cars. In the coming weeks, Peterson plans to give fans an exclusive look at all of his vehicles in his "P2's Keys to the Ride" blog.
"We are chilling in my garage where I personally work on cars," said Peterson in his video blog. "I really got into cars when I was about thirteen years old and my father and I used to go to Moroso drag strip right outside of Palm Beach, FL. We used to go there every Sunday."
Visit Peterson21.SOTL.com for the full video blog.
In addition to Peterson, Bills wide receiver Stevie Johnson gives fans an inside perspective from the Bills locker room, including what type of music Coach Gailey listens to, who the best singer on the Bills team is and more.
"Our best singer, and our most musically gifted player has to be Bryan Scott," said Johnson. "He can sing and play the piano, guitar, drums and saxophone. You name it, he can do it. He has played with the Buffalo Philharmonic Orchestra in a concert for 5,000 of Buffalo's public school students, and with recording artist Michelle Branch on Monday Night Football's 'Monday Night at the Mic' competition, in 2003."
Saints defensive end, Will Smith, talks technology this week and how he believes it has helped him improve his game and become a better athlete.
"We've used the iPads the last couple of years, and it's so much better than the system we used before, with everything on DVDs," said Smith. "Now, you don't have to carry around a box of DVDs, you just carry one device. Within a couple of seconds I can watch a specific situation."
For these player blogs and more, visit http://www.SOTL.com/Blogs
More About School of the Legends / SOTL.com
SOTL.com was founded in 2009 as the official social media partner of the NFL Players Association and serves as "The Voice of the Players"™ with more than 2,500 current and former players contributing to the site. SOTL.com features weekly football and lifestyle blogs by dozens of NFL players and alumni, including Jerome Bettis, Barry Sanders, Patrick Peterson, Will Smith, Dwayne Bowe, Cliff Avril and others. SOTL.com is the player's site where they comment directly on football news stories of the day and contribute to exclusive player polls that give fans their perspective on the league's most important issues.
The sister site, SOTLTraining.com, is the largest online source for football training classes with the instructional video series "Legends in Training" that feature players such as Peyton Manning, Larry Fitzgerald and Tony Gonzalez to name a few as well as instruction from professional coaches and trainers. SOTL.com and SOTLTraining.com are officially licensed partners of NFL Players Inc.