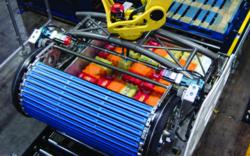 MasterPal eliminates product handling limitations created by rollers or vacuum pick and place. With MasterPal, if it can be conveyed, it can be stacked.

-- Jason Bennett, Currie by Brenton Product Line Manager
Alexandria, MN (PRWEB) September 20, 2012
Packagers who need to palletize or depalletize trays, large loads, bulk items and bundles have historically made quality or speed compromises due to limitations of vacuum pick and roller technology. That's no longer necessary with Currie by Brenton's patented MasterPal technology which palletizes or depalletizes full layers at time, up to 500 lbs., at speeds up to six layers a minute.
MasterPal provides consistent tight layer grids of palletized product through a unique "cradle and place" technology that combines a servo-operated rotary tool and slat system to gently handle full layers of product with each motion. The versatile end-of-arm technology is field proven for multiple palletizing and depalletizing applications and provides superior results for empty or full bulk items, bags, cans, bottles or irregular shaped packs. It reliably handles open or sealed cases, trays, display packs, bundles, and bulk product.
"MasterPal's slatted apron completely supports an entire layer of product from the bottom," said Jason Bennett, Currie by Brenton Product Line Manager. "This eliminates product handling limitations created by rollers or vacuum pick and place, which leave trays behind or fail to handle certain bulk items. With MasterPal, shape or type of product doesn't matter; if it can be conveyed, it can be stacked. Even soft or gentle-requirement products are efficiently and consistently handled."
Currie by Brenton, powered by Pro Mach, acquired the MasterPal patents in August this year and is now distributing the product throughout North and South America. Currie by Brenton offers a demonstration center for customer testing in its state-of-the-art Alexandria, Minnesota facility.
For technical questions about MasterPal, please contact Jason Bennett, Currie by Brenton Product Line Manager at 800-535-2730 or at currie(at)becmail(dot)com.
About Currie by Brenton
Currie by Brenton, powered by Pro Mach, offers palletizers that come with a proven track record with over 1,700 conventional and robotic installations. The Currie by Brenton full line of palletizing solutions uses uncompromising designs which help maximize the reliability and value of your machinery. By offering both conventional and robotic palletizing products, the Currie line of palletizers meet virtually every automated palletizing challenge and bring customers an expanded selection of capabilities, flexibility, throughput, and investment. For more information about Currie by Brenton visit their website at http://www.CurriebyBrenton.com or contact them at (800) 535-2730 or currie(at)becmail(dot)com.
About Pro Mach
Pro Mach is a leading provider of integrated packaging products and solutions for food, beverage, household goods, pharmaceutical, and other diverse consumer and industrial companies. Through three business units and related divisions, Pro Mach provides equipment, training, installation, and parts in primary packaging, end-of-line packaging, and identification and tracking.
Pro Mach has a diverse customer base, from Fortune 500 companies to smaller, privately-held businesses worldwide, which depend on reliable, flexible, technologically advanced packaging equipment and integrated solution sets. Pro Mach is headquartered near Cincinnati, Ohio with manufacturing facilities and offices throughout the United States and Canada. For more information about Pro Mach visit our website at http://www.ProMachInc.com.