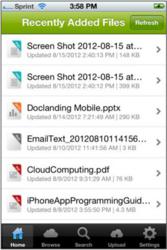 Apple users will now find it easier than ever to quickly store, search and share documents in a secure environment.
Omaha, Nebraska (PRWEB) September 21, 2012
DocLanding, the leading innovator in cloud document management, today announced the release of DocLanding Mobile 1.1, an updated version of its mobile app that allows iPhone and iPad users to easily access files and collaborate on projects.
"Version 1.1 is iOS 6 compatible and works great on both the iPhone and iPad," DocLanding CEO Timothy Campbell said. "Apple users will now find it easier than ever to quickly store, search and share documents in a secure environment."
Campbell said the app, available free through iTunes, also is updated for retina displays and includes additional performance enhancements. The company released Version 1.0 of DocLanding Mobile in November 2011.
DocLanding, which initially developed a secure, cloud-based document management system for enterprise users, has streamlined is product for individuals and small businesses.
"DocLanding is a perfect solution for those businesses and consumers who have a daily need to collaborate on projects and access documents, but don't have huge IT budgets," Campbell said. "The newest version of our mobile app makes it even easier for those people who want an affordable option for easily storing and sharing documents without worrying about security."
Thirteen million files have been stored on DocLanding's US-based private cloud and the company's clients include thousands of independent users along with city and county governments, rail, medical and financial services firms.
Version 1.1 of DocLanding Mobile includes the popular "Mobile Preview" feature that allows users to view numerous file types right from an iPhone, iPad or iPod Touch. From the preview screen, DocLanding Mobile users can print wirelessly to AirPrint enabled printers, bookmark pages and email documents. The "Recently Added Files" feature provides a quick snapshot of new content.
DocLanding is a privately held company based in Omaha, Nebraska. For more information about DocLanding go to http://www.doclanding.com.
______________________
DOCenter, DocLanding, DOCenter, DocLanding Desktop, DocLanding Sync, DocLanding Mobile product names are trademarks or registered trademarks of DOCenter, Inc. All other company and product names are trademarks of their respective holders.