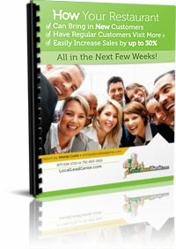 The key to restaurant success is building a database of loyal customers
Neptune, NJ (PRWEB) September 25, 2012
In today's economy, local and national restaurants are searching for tools that will help them survive the current economic conditions. Restaurants have been one of the hardest hit businesses in the last four years, and Local Lead Genie now offers a free Restaurant Report to help restaurants maintain their customer base and bring in new customers, in order to increase their sales. In fact, some restaurants are seeing an increase of 20% - 30% by simply using mobile marketing.
Local Lead Genie's latest report outlines the challenges faced by the restaurant industry, and offers real solutions based around mobile marketing and advertising technologies. Understanding your customer's needs, is the first step in increasing profits for any business, and doing it with mobile marketing and advertising has provided restaurant owners with a complete understanding of what customers want and do not want from their dining establishments.
Local Lead Genie's Restaurant Report offers affordable solutions for restaurant owners to explore, and outlines in impressive detail, how mobile marketing and advertising proves to be more effective than any other type of marketing currently being used by restaurant owners.
Restaurant owners will learn how they can:

Get loyal customers to visit more often
Get customers from your competition
Turn your new customers into loyal customers, and
Understand how mobile marketing is highly effective and profitable for any restaurant business
Local Lead Genie's Restaurant Report spells out in great detail the power of text message marketing.
In addition, SMS marketing brings in new customers, and turns them into loyal customers that will enable a restaurant owner to make more money and more profits by year end. This type of marketing is easy to implement and works better than print media, radio spots and is definitely better that a top listing in Google.
The key to restaurant success is building a database of loyal customers, that enables the restaurant owner to interact with them on a personal level, by using their mobile phone or smartphone. With 90% of the American public now owning a mobile phone, and with 92% of them using "text messaging", it's easy to see how this type of marketing will have a positive impact on any restaurant owner's business.
Now imagine the possibilities restaurant owners have when they realize that most text messages are opened within 5 seconds of being sent. This means that a restaurant owner can be assured that 97% of their database will see their message. Additionally, statistics show that many mobile phone owners will leave messages on their phone for a period of 12 days.
This free Restaurant Report is a guide that every restaurant owner should read, in order to help them succeed in their business. Restaurant owners who understand the power of this new advertising tool, will see more business coming into their restaurant and coming in more often.
Now, more than ever before, mobile marketing on cell phones, smartphones and mobile phones is the advertising tool of today.
Visit http://localleadgenie.com or contact them today at 877-634-1710 to get the Restaurant Report while it is still free.