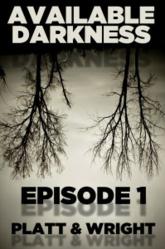 We had no idea if this would work, but we knew we wanted to try," said Wright, who explained that he and Platt love serialized fiction in all its forms — comics, movies, and TV shows.
Cincinnati, OH (PRWEB) September 23, 2012
The first book of the vampire serial, Available Darkness sat in various stages of undone for more than two decades in the hands of David Wright. It wasn't until he lost his job as a reporter in 2008 that he gave the manuscript another look. This was around the time he met Platt, who was going through a transition himself — closing a successful preschool in order to pursue his writing dreams.
The two met when Platt bought the domain name Wright had meant to buy a few weeks earlier, opting for a different name at the last minute. When Wright returned to buy the domain, WriterDad.com, he found that it had been bought and was being used by Platt, who was doing what Wright wanted to do — blogging about fatherhood and writing.
"I was mad at first, that someone bought the domain I wanted. But then I started reading Sean's stuff, and I realized that not only was he talented, but we had a lot in common. He was not only doing what I wanted to do, with the domain I wanted to do it with, but he was doing it so well, that I had to tell him how much I liked his writing."
Wright reached out to Platt in an email, congratulating him on 'stealing' the website, and complimenting his writing. Being in the middle of major life changes, the two decided to experiment by cowriting a story and seeing how it went. Platt completed a couple of first drafts for novels, while Wright had given up on writing for a while to pursue cartooning for nearly a decade. But Wright's experience as a reporter had given him the desire to keep his writing fresh in hopes of landing another gig.
Wright suggested they write Available Darkness, a story Wright had been toying with since he was a teenager. He figured it was a good story which they could write relatively quickly since he had much of it in his head already.
They started to write the story in serialized format on the web in 2008 and loved working with one another.
"We gelled together amazingly," said Platt. "There was never any ego at all, and we complimented one another's strengths and weaknesses almost perfectly. It was a blast to write with someone else."
They put the story on hold halfway through, eager to ditch the difficulties of writing a serial on the web, where it was tough to draw a large audience, let alone make money.
They wrote as freelancers and ghostwriters until in 2011, when they saw how Amazon was crushing barriers to self-publishing. Authors were suddenly able to attract and nurture an audience, they decided to give Available Darkness another shot — this time as a print-on-demand book.
They rewrote the first half, then finished and published the first book in a planned trilogy. What came next changed everything.
Instead of promoting Available Darkness, they went back to work. This time with the serialized post-apocalyptic thriller, Yesterday's Gone.
"We had no idea if this would work, but we knew we wanted to try," said Wright, who explained that he and Platt love serialized fiction in all its forms — comics, movies, and TV shows.
The duo committed themselves to writing a new "episode" of their serialized books every week in 2012. They've started three series, Yesterday's Gone, WhiteSpace, ForNevermore, which have helped them gain a loyal readership that gets what they're doing with serials. That audience has helped them work full-time on serials, making a living doing the very thing they were dreaming of back in 2008.
Now they're revising and re-launching the first Available Darkness as their fourth series before kicking off a second season this fall. While Platt and Wright revised much of the original text to improve it, careful not to change events from the original narrative.
Available Darkness is billed as a "new breed" of vampire mystery thriller. The story follows an amnesiac, John, who was buried alive and wakes with no memory. As he tries to uncover the mysteries of his past, John finds himself as a guardian to an abused 11-year-old girl, and hunted by an FBI agent with a score to settle. The story, with its thrills, a touch of fantasy, a few huge secrets, and a romantic subplot, has found a small cult following which have been emailing Platt and Wright asking when the second book would be out.
"We're so thankful to our readers and to Amazon for making this dream possible," said Wright. "And to think all of this started because Sean bought 'my domain!'"
Pick up the first episode of the serialized fiction work, Available Darkness at Amazon today.
Platt and Wright are the self-proclaimed Kings of Serialized Fiction, who are spending 2012 releasing a book per week, spanning across several serials (including the smash hit post-apocalyptic serial Yesterday's Gone, WhiteSpace, ForNevermore, Available Darkness, and collections of their Twilight Zone-inspired Dark Crossings short stories.
Read more about their book-per-week quest at http://www.CollectiveInkwell.com.