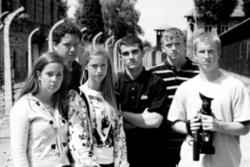 Denver, CO (PRWEB) September 21, 2012
Through generous funding from the family of Holocaust survivor Miryam Brand, the Mizel Museum is now in its sixth year of presenting The Miryam Brand Holocaust Education Film Project for metro-area middle and high school students. This year, in conjunction with the Denver Film Society, the documentary "We Must Remember" will be available for viewing by non-students on October 18, 7:00 p.m. at Denver FilmCenter//Colfax, 2510 East Colfax, Denver, in the Lowenstein CulturePlex.
"We Must Remember" is a documentary about sixteen American high school students who discover the Holocaust while spending a year producing a film on the Holocaust. Shot in Germany, Poland, Austria, Washington, D.C., and Central and Southern California, this unique film captures the experiences of sixteen teens as they interview Holocaust survivors and American veterans, visit two German high schools where they interview German teens on their perspectives on this part of their country's history, and film the inside of three concentration camps. The film offers a groundbreaking approach for educators who are introducing the Holocaust to their students.
Tickets are $7 for Mizel Museum and Denver Film Society members; $9.75 for non-members. Purchase tickets at http://www.denverfilm.org. For questions call Deanne Kapnik at the Mizel Museum, (303) 749-5019.
About the Mizel Museum
The Mizel Museum is a portal to the contemporary Jewish experience. Exhibits, events and educational programs offer interactive experiences that promote community, understanding and multiculturalism. The Museum is located at 400 S. Kearney Street, Denver, where visitors can tour the new permanent exhibit, 4,000 Year Road Trip: Gathering Sparks, a dynamic journey through art, artifacts and digital media that narrates and illuminates Jewish history and culture. For more information visit http://www.mizelmuseum.org or call 303-394-9993.