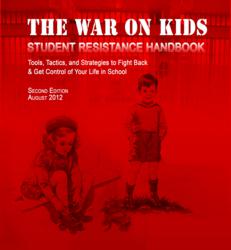 The release of this Handbook is irresponsible, and frankly - dangerous.
Cambridge, MA (PRWEB) September 25, 2012
A new free publication on student resistance is causing shockwaves with parents and educators. The publication, called "The Student Resistance Handbook," was created by Spectacle Films, the cutting-edge New York based film company which produced the controversial documentaries, "Ikland" and "The War on Kids".
The handbook gives students suggestions for actions they can take to undermine their school, and is subtitled: "Tools, Tactics, and Strategies to Fight Back and Get Control of Your Life in School." Among the topics covered in the handbook are: tips for monitoring teachers and administrators to instill fear and paranoia, accessing public records to embarrass schools and teachers, how to undermine mandated testing, advice on asserting basic legal rights, resisting searches, and even instructions for students on how to go about suing public schools.
The handbook was written by Cevin Soling with help from Morgan Emrich, a former public school teacher. Soling is the director of The War on Kids, an acclaimed documentary which exposes "the widespread abuse of children," which has generated student resistance in public schools across America. Soling, a student at Harvard University's Graduate School of Education, is passionate in his belief that students can not effectively learn or grow academically under the repressive conditions of public schools.
"Public schools meet the definition of being fascist institutions because they exercise complete power over students, suppress all dissent, and establish arbitrary rules, which are arbitrarily enforced," says Soling. "It is contrary to human instinct to learn in that kind of environment," he adds. "Time and again, all the research shows that public schools are not effective at educating students."
Soling has made the Student Resistance Handbook available to all students as a free download on the website, http://www.thewaronkids.com. Says Soling: "Resisting tyranny is the most important lesson society should be imparting. Thomas Jefferson saw this as the highest duty of education and a fundamental human right. Public schools wrongly insist that the learning process requires surrendering one's civil liberties."
Not everyone is happy with Soling's assessment of student resistance tactics and his willingness to provide the handbook free of charge to anyone who downloads it. Many parents and educators have objected, insisting the handbook promotes anarchy. Furthermore, they believe if students don't obey rules and have discipline, no one will learn. They also feel the handbook advocates disrespect for authority.
Megan Haney, an Elementary Public School Teacher - Portland, OR. insists, "The release of this Handbook is irresponsible, and frankly - dangerous. If students come across this thing it's going to create a real mess. You're just asking to completely disrupt the school day. This doesn't need to be anywhere around kids."
Soling believes the debate on student resistance of officials is healthy and necessary to promote new perspectives. "All public school students are oppressed, and those who run these schools willfully disregard that. America will emerge stronger and be better equipped to meet the demands of an uncertain future when its youth are afforded greater respect and dignity."