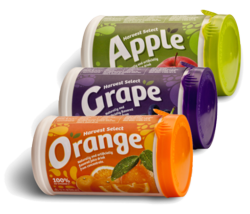 Sparta, MI (PRWEB) September 20, 2012
Frozen fruit juice concentrates have been a staple in U.S. family freezers for decades due to the unique combination of value and fresh-when-you-make-it taste appeal. Today, consumers have a new budget-friendly option called Harvest Select, available in core flavors including Grape, Orange and Apple varieties. Each 12-ounce container of Harvest Select has a suggested retail price of just $.99 per can, which reconstitutes to 48 ounces of 10 percent juice cocktail.
All three varieties of Harvest Select feature 10% real fruit juice, and each eight-ounce serving provides 100 percent of the daily recommended intake of Vitamin C. The juice cocktail concentrate comes in a lightweight, leak-proof plastic can that is microwave safe, making thaw times a thing of the past. Simply empty one can of Harvest Select into a pitcher, add three cans of cold water and stir for a great tasting juice drink the whole family will enjoy.
Harvest Select frozen juice cocktail concentrate can be found in the frozen juice aisle at leading retailers beginning this month. Harvest Select is an Old Orchard Brands product manufactured in Sparta, Mich.
Old Orchard is the second-largest producer of frozen fruit juice concentrates in the U.S.
About Old Orchard Brands
Sparta, Michigan based Old Orchard Brands is one of the fastest-growing fruit juice brands in the United States. Established in 1985, the company offers consumers 40 frozen concentrate flavors and 100 bottled varieties in a range of 100 percent fruit juices and blends, premium and organic juices, fruit juice cocktails and low-sugar fruit juice cocktails. The company is known for its innovative and value-added products that target the needs of today's health conscious consumers.