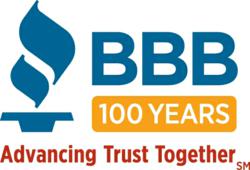 Arlington, VA (PRWEB) September 20, 2012
Four companies and one individual will receive the 2012 BBB International Torch Awards, presented by the Council of Better Business Bureaus to recognize those that have exemplified BBB's mission to advance trust in the marketplace. The Award recipients are: Consumer Federation of America's Executive Director Stephen Brobeck, Ford Motor Company, Rockwell Automation, Inc., Barney & Barney LLC and Fairytale Brownies.
The awards will be presented during the BBB's Centennial celebration on the evening of October 2, 2012 at the Andrew W. Mellon Auditorium in Washington, DC.
"For 100 years, BBB have been setting standards to make trust a fundamental component of the American and Canadian marketplace," said Carrie A. Hurt, President and CEO of the Council of Better Business Bureaus. "These International Torch Award winners embody that vision on a daily basis, and we are proud to honor them."
About the Honorees
Stephen Brobeck, Executive Director, Consumer Federation of America (CFA) located in Washington, DC, will receive the Torch Award for Consumer Leadership. Mr. Brobeck has served many years as an exemplary leader, working to advance pro-consumer policies on a variety of issues before Congress, the White House, federal and state regulatory agencies, state legislatures, and the courts. He has communicated and worked with public officials to promote beneficial policies, oppose harmful ones, and ensure a balanced debate on issues important to consumers. As Executive Director of CFA since 1980, Mr. Brobeck has charted an amazing course and built a legacy of extensive contributions to trust in the marketplace through a career dedicated to consumer advocacy, protection and education.
Ford Motor Company, located in Detroit, MI, was one of the founding companies of BBB in 1912. Ford is being presented the BBB President's Award, for "sustained superior performance that fundamentally changed the marketplace, and shaped the definition and expectation of trust for all marketplace participants." Ford consistently develops and produces some of the industry's most innovative and fuel-efficient vehicles, while at the same time balancing production with environmental, safety and social responsibility concerns. Ford's dedication to innovation and technology has given consumers more choices for high-quality vehicles with leading fuel economy – including eight vehicles with 40 mpg or more by the end of this year. Ford is making sure its customers can take advantage of the rapidly growing electric vehicle infrastructure in the U.S. – now with more than 9,400 public charging stations – by equipping its plug-in hybrids with batteries that can charge in as little as 2.5 hours. Its MyFord Mobile app helps customers locate nearby charging stations and can automatically set the car to charge at off-peak times, which generally have lower electricity costs.
Three companies were selected to receive the BBB International Torch Award for Marketplace Excellence. This award is given to a business that demonstrates "superior commitment to exceptional standards that benefit its customers, employees, suppliers, shareholders and surrounding communities. Entrants competed with similar-sized companies in three categories: 1000 or more employees, 100-999 employees, and under 100 employees.
Rockwell Automation, Inc., Milwaukee, WI (industrial automation and information)
At Rockwell Automation, helping manufacturers succeed and grow is what they do best — with industrial automation control and information solutions designed to give customers a competitive advantage. Rockwell Automation embraces honesty, fairness, quality and responsiveness as guiding principles — and views integrity as an underlying value in every business transaction. The company's global capabilities extend across 80 countries and include a partner network of more than 5,600 regional and global specialists in distribution and system integration. Rockwell Automation understands that engaged and motivated employees are key to its success and prides itself on creating an inclusive work environment that rewards employees based on both individual and company performance. In fact, the company was named a 2012 National Top Workplace by Workplace Dynamics, as a result of a survey of company employees. All 21,000+ employees receive annual ethics training. Rockwell Automation prides itself on making a positive impact in the community through financial contributions to a variety of agencies, with a focus on science, technology, engineering and math programs that target young people and by encouraging and supporting employee volunteerism. For four out of the last five years, Rockwell Automation has been recognized as one of the "world's most ethical companies", by the Ethisphere Institute, and is also the winner of the 2012 American Business Ethics Award, an award sponsored by the Foundation for Financial Service Professionals. Rockwell Automation was a finalist for the 2009 BBB International Torch Award.
Barney & Barney LLC, San Diego, CA (insurance)
For over 100 years, Barney & Barney, LLC has diligently worked to create and sustain a corporate culture that upholds the fundamental principles of personal and corporate ethical behavior by all associates. Since its founding, the privately-owned insurance brokerage has committed itself to providing associates with a positive work environment and the means to maintain a healthy work/life balance. Through its b-well program, associates can take advantage of on-site yoga classes and subsidized gym memberships, as well as full health screenings. For its clients, the company has an extensive program of checks and balances in place to ensure the services they provide are not only accurate and fair, but exceed the client's expectations. In addition to the company's commitment to their clients and colleagues, Barney & Barney's long history of giving back to the community was recently formalized with the creation of the Barney & Barney Foundation in 2009. The company has received numerous industry recognitions for exemplifying broker best practices, ethical business standards and excellence in employee satisfaction.
Fairytale Brownies, Phoenix, AZ (food/retail)
Founded in 1992 by two childhood friends, Fairytale Brownies is dedicated to the core values of product excellence, incomparable service, integrity, teamwork and leadership. Their "One Pure Promise" vows complete customer satisfaction. Every purchase comes with an unconditional guarantee: If the customer or gift recipients are ever dissatisfied, even slightly, the company will do whatever it takes to make things right. To uphold its reputation for exemplary service, each team member is supported with a "$100 empowerment policy" which allows them to spend up to $100 to satisfy any customer issue without approval from a team leader. Fairytale Brownies is active in the community and since 2001 has supported the national non-profit KaBOOM! whose goal is to build a safe place to play within walking distance of every child in America. Since that time Fairytale Brownies, their customers, and their fundraising partners have donated more than $100,000, along with brownies, cookies and time to support their efforts.
Two additional businesses in the Marketplace Excellence competition were named Finalists:

DSD Business Systems, an Enterprise Software Solutions Provider located in San Diego, CA for exceeding the expectations of its customers and providing quality products and services; and
Mediaura, a full-service interactive and software development agency, headquartered in Louisville, KY for its unwavering commitment to excellence and client satisfaction.
CBBB would like to thank its Centennial, Trust and Integrity Circle sponsors: Verizon, HomeServ USA and The Hershey Company. For a complete list of sponsors visit our website at http://www.bbb.org/international-torch-awards.
# # #
ABOUT BBB:
For 100 years, Better Business Bureau has been helping consumers find businesses, brands and charities they can trust. In 2011, consumers turned to BBB more than 100 million times for Business Reviews on more than 4 million companies and Charity Reports on 11,000 charities, all available for free at http://www.bbb.org. The Council of Better Business Bureaus is the umbrella organization for 115 local, independent BBBs across the United States and Canada, as well as home to its national programs on dispute resolution and industry self-regulation.