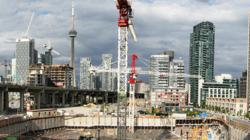 Edmonton's economy is currently one of the strongest in Canada and there are clear signs of long-term stability and improvement. It is safe right now to assume that we will see a heated condo market throughout 2013
Toronto, Ontario (PRWEB) September 24, 2012
In a recently conducted study of Canada housing market, Genworth Canada has revealed that condo starts, prices and sales will rise in seven out of eight metropolitan areas in Canada. The report adds that the rising population in these areas has played a significant role in fueling the condo market, which will remain hot throughout 2013.
Mortgage expert Marcus Arkan, CEO of Syndicate mortgages, has also presented a detailed analysis of Genworth's report suggesting that the highest increase is expected in Edmonton. He said, "Edmonton's economy is currently one of the strongest in Canada and there are clear signs of long-term stability and improvement. It is safe right now to assume that we will see a heated condo market throughout 2013. " According to the Genworth report, condo prices in Edmonton are expected to rise 3.2%.
Similarly, condo demands and prices will also rise in Toronto according to Genworth. Condo prices in GTA will increase 2.5% in 2013. Mr. Arkan added that these predictions have debunked the myth of inevitable bubble in Toronto. Previously, market research firm Urbanation stated in their report a record number of unsold condo units in Toronto. However, in their more recent Q2 Outlook,
Urbanation had revealed that the number of unsold units represent only 20% of the total inventory. This implies that roughly 80% of the condo units are sold in GTA and the previously predicted oversupply issue is not hovering over the Toronto market anymore. However, the Bank of Canada maintains that the Toronto condo segment still faces a risk of price-correction.
Out of eight metropolitan areas studied by Genworth Canada and Conference Board of Canada, Vancouver was the only city where condo demand and prices are more likely to experience a slight drop of 2%. According to Mr. Arkan, "The latest mortgage rules were specifically targeted towards over-heated markets which included Vancouver. So, for now this is what was actually intended and expected."
According to the 2011 census released this February, multi-unit homes account for half of new housing stocks in major metropolitan areas. While one reason is the affordability issue created by new mortgage policies, rising population in urban centers is also responsible. According to new census figure, In Toronto alone, the population has increased 17% since 2006.
CMHC also indicated strong multiple-unit dwelling sales in their current reports. However, CHMC predicts a moderate softening in the last quarter of 2012 and into 2013. "Genworth and CMHC contradict each other but it will all depend upon the affordability of single family units in the coming months," Mr. Arkan concluded his analysis.
About Syndicate Mortgages Inc.
Syndicate Mortgages Inc. is one of the leading Canadian mortgage brokerage firms. Founded in 2008 in Ontario, the company specializes in residential, commercial and construction financing across Canada. With years of experience and expertise in the mortgage industry, and access to an array of lending institutions across Canada, Syndicate is known for finding the best mortgage rates for their customers. Syndicate has branch locations across Canada. For contact, please use the following details.
Contact Details
Syndicate Mortgages Inc.
http://www.syndicatemortgages.com
Toll Free: (888) 646-1062
Email: info(at)smibroker.com