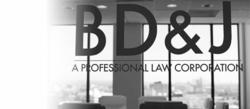 Insurance companies main goal is to pay out as little as possible in compensation to the accident victims. They often try and settle cases for fractions of what they know their real value to be
Los Angeles, CA (PRWEB) September 20, 2012
The three partners and co-founders at Banafsheh, Danesh & Javid P.C. are offering their 50 years of combined legal experience to car accident victims for free for a limited time. Individuals who have been seriously injured in car accidents on California highways can call the firm's toll free number at 800-820-1111 to reach one of the firm's partners, who will advise them on the strength of their potential case.
According to the firm's website and the National Highway Traffic Safety Administration (NHTSA), one in four individuals will be involved in a car accident in any five year period. While not all of those accidents are serious, many are, requiring significant hospital time and medical costs.
When these accidents occur due to the negligence of another driver, California law allows the injured to recover monies for things like lost wages, the cost of past and future medical bills, and in some cases, pain and suffering.
As Car Accident Lawyers with more than half a century of combined legal experience, the partners at Banafsheh, Danesh & Javid, P.C. have handled thousands of car accident cases successfully, recovering hundreds of millions of dollars for their satisfied clients. Their experience in these matters is well documented on their website and is backed by video testimonials on the website's car accident page.
Raphael D. Javid, partner and co-founder of BD&J Law urges accident victims to remember to be cautious when dealing with insurance companies.
"Insurance companies do not have the best interests of the injured at heart. Their main goal is to pay out as little as possible in compensation to the accident victims. They often try and settle cases for fractions of what they know their real value to be, pressuring the injured to sign binding documents before consulting an attorney. As a general rule of thumb, you should never sign a document before consulting with an attorney."
Javid also reminds individuals thinking about filing a claim to remember that their time to do so is limited. The statute of limitations for personal injury accidents is two years. If a government agency or city employee is involved in the accident, the timeframe for filing can be as little as six months.
About Banafsheh, Danesh & Javid, P.C.
Banafsheh, Danesh & Javid, P.C., is a well-respected personal injury law firm based in Beverly Hills, California, that represents accident and injury victims throughout Los Angeles County and surrounding areas, including Orange County, San Francisco, San Diego, Riverside, San Bernardino, San Jose, Sacramento and all points in between. The firm's Los Angeles personal injury lawyers handle cases on a contingency fee basis, not charging a fee unless they can gain a recovery for their clients.
The firm also features a staff that speaks Spanish, Italian, Farsi and Hebrew in addition to English and offers free consultations via their toll free number 800-820-1111.