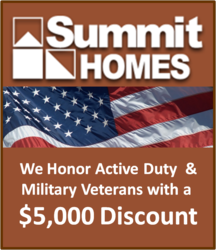 We wanted to provide a significant way to thank our military for their service and sacrifice.
Gettysburg, PA (PRWEB) September 24, 2012
Summit Homes, Inc., a premier Active Adult and 55+ Community developer in Maryland and Pennsylvania, announced today that it is offering a military discount to new home buyers who are veterans or active duty military. The company is offering a $5,000 discount on new home options when a veteran or military member purchases a new home built by Summit Homes. The discount is Summit Homes' way to say "Thanks" to the men and women of the military for their service to the nation. The discount applies to active duty members and veterans of the Army, Navy, Air Force, Marines, Coast Guard, The Reserves and National Guard.
Summit Homes is serious when it comes to thanking the nation's men and women who are serving and who have served in the defense of the United States of America. The company understands the commitment of military personnel and instituted their military discount program as a way to reward these individuals for their personal sacrifice in defense of our country. Summit Homes has three beautiful communities where military members and veterans can take advantage of their military discount.
The Active Adult and 55+ Communities by Summit Homes are located in some of the most beautiful and historic areas of northern Maryland and southern Pennsylvania. Carroll Vista in Taneytown MD has a magnificent 15,000 sq. ft. clubhouse, community pool and tennis courts that enable residents to enjoy an active lifestyle in a beautiful country setting. The Villas at Cattail in Hanover PA offers homes with the sought after 'one level living' floor plans in a peaceful, stress free country environment. The Preserves at Cumberland Village in Gettysburg PA is a community of beautiful homes complete with all of the Summit Homes luxury features to enhance a relaxed lifestyle.
The company is meticulous about the construction of their new homes and focuses on building high quality homes that require minimal maintenance. They offer a large number of models and floor plans that can be customized to meet the needs and lifestyle of the home buyer. This allows their clients to enjoy the best in casual living which includes features such as open floor plans, state of the art chef's kitchens, spacious master suites and baths on the main level of the home, energy saving insulation and low maintenance exteriors that save time and money.
Summit Homes' President Braden Maley commented on the company's military discount program. "We wanted to provide a significant way to thank our military for their service and sacrifice. To make this a reality, we developed our Military Discount Program as a way to thank our brave men and women who have served our country. This is a way for Summit Homes to help pay back our troops for their years of service to our nation. I invite active duty and military veterans visit our communities for a tour and see our beautiful homes."
Founded in 1997, Summit Homes develops casual living Active Adult and 55+ Communities in Maryland and Pennsylvania. Their communities include Carroll Vista, Taneytown MD (Tel-443-918-5232), The Villas at Cattail, Hanover PA (Tel-717-646-9512), and The Preserves at Cumberland Village, Gettysburg PA (Tel-717-334-2303). Web marketing by Atlanta SEO Company, Interactive Search Marketing.