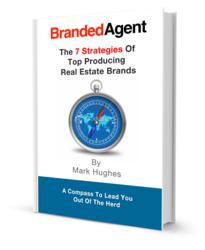 Three out of four buyers and sellers use the first and only agent that they call. Personal branding, not sales shtick, is how you get that one call, every time.
(PRWEB) September 21, 2012
Real estate marketing author Mark Hughes's second sales book, Branded Agent: The 7 Strategies of Top Personal Real Estate Brands, is released and available in stores today. Branded Agent is a guide to becoming the agent first in mind, the Realtor with the most target market mind share using 7 proven personal branding strategies of top-producing Realtors nationwide. Hughes dispels the value of traditional slick sales techniques and shtick. He says that pushy sales model is thankfully broken. Instead, the book walks agents through 3 personal branding steps starting with a refreshing and previously unconventional industry approach to uncover one's authentic passion fist. Hughes then details how to build a top-producing real estate career around that passion using 7 branding strategies that position the agent as the obvious target market expert of choice.
"It's a terrible market for agents in the first place and beyond that 10% of the Realtors are doing 90% of the business out there. Each of the 10% has a unique and identifiable personal brand." says Hughes. The three steps are discovering (uncovering), building, and being your own powerful personal brand. Hughes lays out the reasons and the game plan for agents to move out of the herd and from "you to You Inc." "A brand is a promise of value," says Hughes. The book explains that not only is it okay, but it's vital for agents to uncover their own promise of value. The 7 strategies polish that promise with a consistent style, identity, and message that are then amplified through a simple but comprehensive marketing plan. The 7 strategies are individually presented in the second, "brand building" phase of the book. There are no gimmicks here, just straightforward unapologetic real estate coaching on how to best use the web, social media, networking, direct mail, advertising, and PR to become first in mind of a target market. Hughes says, "marketing beyond the 7 strategies is just noise." The third step in the book is a guide to being and living your personal brand. He calls the book a compass and not a map, "There are 7 strategies to establish a personal real estate brand, but maintaining that brand into the future depends on how each individual agent is wired." He says, "Historically sales instruction was a one-size-fits-all approach that actually fit very few. It was like wrestling for dollars. Here I show you the goal line and give you the play book. Agents will score from there given their own unique set of skills," say Hughes. "3 out of 4 buyers and sellers use the first and only agent that they call. After that one call there is no competition. This is the book that explains to agents how to use the dynamic of personal branding to get that one call, every time, just like the top-producing 10%."