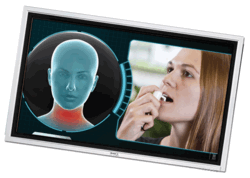 "Sublingual immunotherapy is becoming a popular treatment choice among allergy sufferers. We are excited to join Allergychoices in its efforts to provide the tools necessary to provide this treatment option..." -Jeff Peres, Eyemaginations CEO
Baltimore, MD (PRWEB) September 24, 2012
Eyemaginations, Inc, is pleased to announce a new partnership with Allergychoices, Inc., a healthcare services company that specializes in providing tools, services and support for physicians interested in offering sublingual immunotherapy to their allergic patients. Under this partnership agreement, Allergychoices and Eyemaginations will mutually promote the understanding of sublingual immunotherapy, a treatment option for building long-term tolerance to allergies.
"More than half of all U.S. citizens test positive to one or more allergens," said Jeff Peres, president and CEO of Eyemaginations. "Sublingual immunotherapy, or allergy drops delivered under the tongue, is becoming a popular treatment choice among allergy sufferers. We are excited to join Allergychoices in its efforts to provide the tools necessary to provide this treatment option safely, effectively and conveniently for patients. We also believe it can help them reduce unplanned physician visits and alleviate the need for allergy medications that only temporarily reduce symptoms."
"Helping patients understand the science behind sublingual immunotherapy is a critical piece of the puzzle that can impact compliance and ultimately long-term results," notes Anne Hendrickson, VP of Operations/Marketing for Allergychoices. "Eyemaginations provides a great tool for providers to explain this in a visually engaging and concise manner. We're happy to partner with an organization that is committed to supporting practices through better patient education."
Eyemaginations indicates that the updated content is available in its latest software release of LUMA ENT v1.9.5.
Information about LUMA v1.9.5 can be found by calling Eyemaginations at 877.321.5481, emailing entinfo@eyemaginations.com or by visiting http://www.eyemaginations.com.
About Eyemaginations
Eyemaginations, Inc. is a healthcare media company focused on solutions that support professionals, patients and corporations in communicating and understanding complex topics. The company's in-depth experience with animation, design and software has enabled Eyemaginations to create integrated systems that provide clear and concise education solutions. Eyemaginations has a portfolio of products that are focused on eyecare, ENT, audiology and facial aesthetics. Eyemaginations may be reached by phone at 877.321.5481, email at info@eyemaginations.com or online at http://www.eyemaginations.com.
About Allergychoices
Allergychoices is a leader in offering allergy providers with a complete solution for offering sublingual immunotherapy safely and effectively to their allergy patients without adding to practice overhead. Allergychoices supports practices in treating a broad range of allergic diseases using the La Crosse Method® family of protocols, which are based on more than 40 years of clinical experience and U.S. and European research. Services include retail pharmacy, reference laboratory, clinical consultation, practice workflow and marketing consultation and support. Contact Allergychoices at 866.793.1680, info(at)allergychoices(dot)com or at http://www.allergychoices.com.