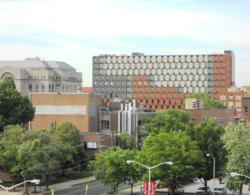 This project brings much-needed housing to the University and adds to the resurgence of this important Camden neighborhood
--Ronald J. Hansen
Camden, NJ (PRWEB) September 20, 2012
City, county, state and university officials gathered yesterday in downtown Camden to celebrate the grand opening of the first new student housing facility for Rutgers-Camden in 25 years. Located at 330 Cooper Street adjacent to Rutgers-Camden campus, the elegant, 12-story, 102-unit high rise for graduate students was developed for Rutgers University by The Michaels Organization, in partnership with the Camden County Improvement Authority.
"This project not only brings much-needed housing to the University, which is experiencing significant enrollment growth, but also adds to the resurgence of this important and historic neighborhood in downtown Camden," said Ronald J. Hansen, Senior Vice President of The Michaels Organization, who led the development team. "We are very pleased to say that the project was delivered on time, under budget, and that its construction created more than 450 jobs for local tradespeople in Camden," Hansen said.
Hansen noted that the success of 330 Cooper Street represents the support of so many people and without them, the project—which Rutgers and the city had envisioned for so long—would not have been possible. "For example," Hansen said, "A local fraternity, Tau Epsilon Phi, relocated off Fourth Street to make the development possible."
The $50 million development features a steel and precast concrete structure, with unique exterior rain screen walls comprised of prefabricated terra cotta panels that give the building its striking appearance as part of Camden's skyline. Meanwhile, a 3-story loft structure along Cooper Street, which features 7,000 square feet of first floor retail space, softens the scale of the building and creates a pedestrian friendly streetscape.
Located at the corner of N. Fourth and Cooper Streets, the state-of-the-art facility offers an excellent location for its 350 residents as well as the latest amenities, including student gathering spaces, a club room, and an accessible roof deck. The fully furnished apartments are available in layouts from 1-to-4 bedrooms and offer modern kitchens with energy-saving appliances, and large common area living spaces. In addition, the entire building is wired for high-speed internet access.
Additional housing for the Rutgers-Camden campus has long been a priority for the University, but various attempts at starting it over the years had fallen short. 330 Cooper Street represents Michaels' first commitment to student housing development, although not its first development in Camden. The Marlton, NJ-based organization has been working in Camden for many years, redeveloping outdated public housing into mixed-income sustainable communities, which has been a major part of the city's revitalization.
Michaels was able to develop the building concept, get it designed, form a team, acquire the site, obtain all necessary permits, develop financing options—as well as gain community support from all local stakeholders—while meeting the fast track set out by the University for delivery in early August and prior to the start of the 2012-13 academic year.
About The Michaels Organization:
The Michaels Organization is a family of eight integrated but independent companies dedicated to excellence in affordable, mixed-income, military and student housing. Our mission is create attractive residential communities for families, seniors, military personnel, and students that stand the test of time and that are managed to maximize long-term value for residents as well as investors. Serving more than 100,000 residents in 340 communities across 33 states, the District of Columbia, and the U.S. Virgin Islands and with a development portfolio valued in excess of $3 billion, The Michaels Organization is a national leader in developing and managing residential real estate.