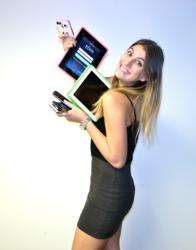 Los Angeles, CA (PRWEB) September 20, 2012
After an incredibly successful series of events, züm, the first mobile application from Divide Nine, is quickly moving from cheeky video messaging app to full-fledged lifestyle brand. In the month since its launch, züm has gained the support of a strong contingent of users in the college nightlife scene, who have quickly adopted the technology as their own and are pioneering the züm movement.
After giving away neon bro-tanks and temporary tattoos at züm-sponsored Hollywood events and college parties, züm is taking over the streets of Los Angeles. Colorful züm tanks have been spotted on both sides of the 405, all over Instagram, Facebook, and even apps like Grindr. züm has found its place among LA's teen culture in addition to the college and club scenes.
Other brands are beginning to take notice of the success of the züm movement and are looking to cash in on its influential demographic of users. Fellow innovative companies like Uber car service and Tigerheat have already partnered with the app to reach this enthusiastic market of young, social, early adopters with more partnerships to be announced in the next 3 weeks.
One of the driving factors behind züm's success within this market is the unique presence of Ariana Basseri, a founding team member of züm and Community Manager. Ariana keeps zümmies engaged by teaching them how the app works and providing real-time züm Q&A to users. Ariana represents everything that züm and the community stands for, embodying the spirit of the app in a tangible, personable way.
"We've seen such a strong response to züm by its users, which leads us to believe that züm has really hit the pulse of what is happening in colleges and nightlife today. The züm movement is all about having fun, going out, and living with no regrets, which we try to drive home in everything we do. Users are really responding to this and we're thrilled that we're creating a new social experience that truly complements their lifestyle." says Ariana.
züm will soon be making an even bigger splash, as Divide Nine and the züm team, including Ariana, will be embarking on a nation-wide college tour, bringing the züm movement to schools across the country. The tour includes stops in the Southwest, Texas, Florida, and numerous cities on the East Coast.
züm is available for download for iPhone and iPad in the iTunes app store or by going to http://gozum.me.
For more information on züm go to http://www.successzum.com.
About the company behind züm, Divide Nine:
Divide Nine is uniquely positioned at the intersection of entertainment, feature animation and social technology. With a team of seasoned, heavy hitting industry execs combined with emerging, fresh talent, Divide Nine is a rapidly growing studio at the heart of LA Technology and Entertainment. Krishna and Lisa founded Divide Nine in 2008 after successful tenures as top executives at companies such as Philips Electronics, MySpace, and Ticketmaster. For more information visit http://www.dividenine.com.
Contact: Jenn Deese, Melrose PR, jenn(at)melrosepr(dot)com, 310-450-7960, http://www.melrosepr.com