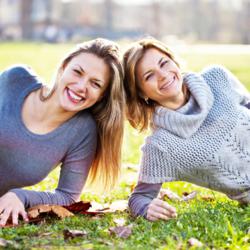 KickStart is ideal for people that have a special event coming up and would like a weight-loss jumpstart or just need a system cleanse,
Toronto, Ontario Canada (PRWEB) September 21, 2012
As the start of a new season, fall is all about making changes: the leaves change colour, routines change – even the clocks change. It's back-to-school and back-to-work time… and it's definitely time to get back into shape! As Canada's leading weight-loss company, Herbal Magic is pleased to announce that its new KickStart kit was recently released and is available in-centre, just in time to help Canadians get a jumpstart on weight loss and start to feel rejuvenated for a new season.
As schedules get busier now that summer vacation has ended, it's important to make smart choices before unhealthy habits form. The change from summer to fall also signifies that many upcoming holidays and events – Thanksgiving, Halloween, Christmas and New Year's Eve (among many others) – are packed into a tight three-month span that can pack on the pounds. September is the time to shed old routines and establish new ones, which is why KickStart by Herbal Magic is perfect for that extra weight-loss boost to get on the road to a healthier body.
In addition to the exclusive KickStart all-natural juice formulation, the KickStart kit includes a box of Herbal Magic's delicious Snacker's Choice Snack Bars. It also has a handy two-day success guide filled with sample recipes, easy-to-follow instructions with food selection lists, and tips for success. In order to start making changes right away, just follow these helpful tips found in the KickStart kit:
1.) Choose organic vegetables and hormone-free meats whenever possible to limit the intake of chemical preservatives to promote the cleansing process.
2.) Eat protein-rich foods like egg-white omelettes or even two scrambled eggs within one hour of waking to boost metabolism and feel fuller for a longer period of time.
3.) Try to eat in regular intervals – every two hours, for instance – to keep metabolism going and suppress hunger.
4.) Use spices – not fatty sauces – to flavour food and add variety to meals.
5.) Prepare raw veggies to bring along and stave off hunger attacks, making it easier to stick to a weight-loss plan.
"KickStart is ideal for people that have a special event coming up and would like a weight-loss jumpstart or just need a system cleanse," said Regan Tessis, ND Vice President of Scientific Affairs and Consumer Health for Herbal Magic Weight Loss Centres. "It's extremely motivating for people to be able to kick weight loss into high gear with the kit. Best of all, everyone can eat real food while on KickStart. Our food selection guide was carefully chosen to work with KickStart to jumpstart weight loss and rejuvenate the body."
About Herbal Magic Weight Loss & Nutrition Centres
With approximately 280 centres nationwide, Herbal Magic is the largest Canadian owned and operated weight-loss company in Canada. Every Herbal Magic Canada team member has been extensively trained and certified as an Herbal Magic Personal Health Coach. With the support of its Scientific Advisory Team – comprised of naturopathic doctors, nurses and dieticians – Herbal Magic's weight-loss experts have the experience, training and tools needed to support clients throughout their weight-loss journey. Herbal Magic's comprehensive system of real food, personal health coaching and natural health products is, quite simply, a common-sense approach to lasting weight loss. Visit http://herbalmagic.ca to learn more.