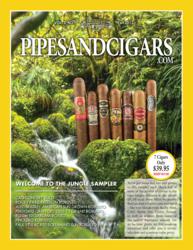 This new catalog format is another move towards our company's ultimate goal of providing the personal service of a local tobacco shop with the convenience, selection, and pricing of an online retailer.
Albany, NY (PRWEB) September 21, 2012
PipesandCigars.com, a leading online tobacconist specializing in offering the Internet's widest selection of the best cigars, pipes, pipe tobacco, humidors, and smoking accessories recently released the Fall 2012 edition of their catalog. This issue marks a change in format from previous issues, with a variety of different content intertwined with the more traditional brand listings to create a catalog/magazine hybrid.
This issue features a variety of cigar sampler packs as well as pipe and tobacco combo packs that offer significant discounts below MSRP prices. There are bonus giveaways on well-known brands like AVO cigars, Romeo y Julieta cigars, and Rocky Patel cigars as well as boutique brands like Four Kick cigars and Paul Stulac cigars. Pipe pages feature brands like Peterson pipes, Nording pipes, and Dr. Grabow pipes. Featured pipe tobacco brands include Lane Limited, Captain Black, Borkum Riff, McClelland, Monjure, and Sutliff Private Stock.
Intertwined with these features there are the magazine-style content, which includes cigar reviews, comic strips, a how-to article about humidor maintenance, an article on pipe tobacco blending, and a state-of-the-industry feature covering hot topics like the number of new cigar releases and legislative issues currently facing the tobacco industry.
Many of the new additions to the world of cigars that were released at the 2012 IPCPR Trade Show are featured within this catalog, including the cigar sampler pack showcased on the front cover that features 7 new blends introduced in June 2012 or later. With so many new cigars currently being introduced, this catalog is among the very first publications to include information about the various new cigar releases that occurred over the summer of 2012.
"Switching to the magazine/catalog hybrid format is something I've wanted to do for a long time" said PipesandCigars.com Marketing Director Travis Lord. "I'm happy to have finally put this plan into action with this issue, and I'm quite pleased with the result. We want to provide our customers and readers with engaging content that provides value beyond traditional advertising. We feel that well-informed customers are our best customers. Rather than trying to push one sale, our goal is to help people make educated purchases and get the most for their hard-earned dollars. A more knowledgeable customer is going to get a better value and be more satisfied with their purchase, and then we've established a relationship with them that goes beyond a simple transaction. This new catalog format is another move towards our company's ultimate goal of providing the personal service of a local tobacco shop with the convenience, selection, and pricing of an online retailer."
The fall 2012 catalog continues to feature the cutting-edge graphic layouts and photography that have become a trademark of PipesandCigars.com's publications. The catalog was distributed to tens of thousands of subscribers to the PipesandCigars.com mailing list, as well as being distributed with the company's daily outgoing shipments. It began reaching customers on September 5, and the deals, prices, and special offers in the catalog are valid through November 5.
PipesandCigars.com has also made the Fall 2012 Catalog availably in digital format. They have posted the issue in an online Flash viewer complete with links so customers can click directly from the catalog pages to the appropriate section of the PipesandCigars.com website.
The company plans to continue with this new format indefinitely into the future. The next scheduled issue publication is for the 2012 Holiday Season, expected to reach customers in the middle of November.
People interested in obtaining a copy of this catalog or subscribing to the PipesandCigars.com mailing list should visit the company's website at PipesandCigars.com for more information.
About PipesandCigars.com: PipesandCigars.com is an industry-leading online tobacconist dedicated to bringing customers the widest selection of cigars, pipes, pipe tobacco and tobacco accessories. The company features premium cigars from brands like Ashton cigars, Montecristo cigars, Macanudo cigars, CAO cigars, Arturo Fuente cigars, and many more. They are the low-cost leader in pipe tobacco on brands like GL Pease, Sam Gawith, McClelland, Captian Black, Borkum Riff and many more. They feature thousands of pipes, ranging from inexpensive Corn Cobs and Dr. Grabow pipes all the way to the premium brands like Dunhill, Peterson and other fine hand-carved pipes.