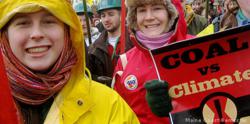 Young voters across the country can overcome the money of big energy companies.
Washington, DC (PRWEB) September 22, 2012
Students around the nation were urged to take the election back from undue influence of oil, gas and coal companies who are spending unprecedented amounts of money to influence the 2012 elections. Energy Action Coalition's Power Vote campaign, a national student oriented advocacy movement, was backed by a report issued today from the National Wildlife Federation's Campus Ecology Program. The report is aimed at college students, most of whom are voting for the first time. The report warns that youth have the biggest stake in the election, since they will inherit problems like global warming if they are not addressed immediately. It is available at: http://www.CampusEcology.org/dirtyenergypolitics.
"Oil, gas, and coal companies want to make the odds seem too overwhelming for the rest of us to affect change in the fight to combat climate change," said NWF president and CEO Larry Schweiger in unveiling the report. "Young voters across the country can overcome the money of big energy companies by getting involved and fighting for a cleaner energy future. Voters get the last word, and politicians know that young voters hold the keys to their political future. This is a key youth issue that can't be ignored."
Co-sponsored by the Energy Action Coalition's Power Vote campaign, the largest youth movement for climate and clean energy solutions, the NWF Campus Ecology guide outlines multiple ways that oil, gas and coal companies are influencing U.S. energy policy. It describes how the energy industry bankrolls the campaigns of incumbent Congressional representatives holding key energy and environment committee assignments. The guide also covers how political action committees (PACs), super PACs, so-called nonprofit "social welfare groups" and other entities contribute to campaigns and run independent expenditures, some without public disclosure of donors.
The influence game is paying off for fossil fuel interests, the report says, with 109 votes in the House of Representatives since the start of 2011 in favor of policies that enrich the oil and gas industry. This included 45 votes to weaken environmental, public health, and safety requirements applicable to oil companies; 38 votes to block or slow deployment of clean energy alternatives and 12 votes to short-circuit environmental review of the controversial Keystone XL tar sands pipeline. Not surprisingly, there was no serious action to positively address climate change during this Congressional session.
NWF has joined with Energy Action Coalition and other national student organizations to support students who are working to expose the role that corporate polluters are playing in energy policy and call for strong climate and energy solutions through the national Power Vote campaign.
"Young voters are mobilizing in record numbers with the Power Vote campaign to use their people power to confront Big Polluters' dirty money and demand the clean energy and climate solutions that our generation needs," said Maura Cowley, executive director of Energy Action Coalition, the youth coalition running Power Vote.
Since 1989, the National Wildlife Federation's Campus Ecology program has been a national leader in the campus sustainability and climate action movement. It helps students reduce greenhouse gas emissions, protect habitat and become environmental leaders.