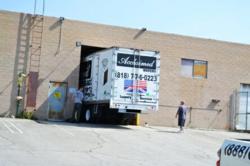 Los Angeles, CA (PRWEB) September 22, 2012
The L.A. Storage, Los Angeles' award winning long and short term storage providers, has drastically increased the size, security, and technology within their already state-of-the-art storage facility. The increase in size and space allows L.A. Storage to nearly double their vault capacity. With an increase in space, comes a need for an increase in security, thus The L.A. Storage has also doubled the amount of security cameras it has protecting its contents. Additionally, they've installed an advanced temperature control system, which protects contents from rust, fading, and wear. With the upgrades to their storage facility, The LA Storage maintains its active position within the market, constantly working to provide the best service possible.
For years, The L.A. storage has been the premier storage provider in Los Angeles. The secure facility, with its alarms and cameras is the safest place for any effects. With the space, tools, and abilities to handle any item, there's nothing they can't and won't store. Their vaults and containers handle anything from pillows to pianos, or couches to cars. Access to items in storage is available during business hours with a 24 hour notice, which allows the team to have your secure vaults or containers prepared for your arrival. The L.A. Storage website contains comprehensive tips on how to properly store belongings, and their customer service representatives are equally helpful.
The Los Angeles Storage strives to set industry standards for professionalism and reliability. With every item stored, they further refine their expertise and develop lasting relationships with the people they help. The goal at the L.A. Storage is to provide the most secure and technologically advanced long or short term storage facility in the nation. When looking to put something into storage, go online to theLAstorage.com, or give The L.A. Storage a call for a free consultation. (818) 641-1695.