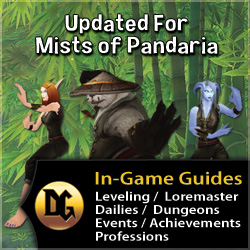 (PRWEB) September 20, 2012
With the upcoming release of the Mists of Pandaria World of Warcraft expansion, players from around the world are considering the possibility of leveling up the new Monk class. However, just one thing stands in their way: they would have to level up over again from 1 to 85 before getting to the new Mists of Pandaria content.
For many players who have already leveled up a character to the level cap, the thought of leveling up another character - even if it is a new class - is tedious at best. The real problem is that by the time players level up their new characters, their friends will already be level 90 and they will have no one to play through the new zones with.
Fortunately, there is a new solution for those players who want to level up Monk or another type of Pandaren but also want to level up quickly enough so they don't fall behind their friends: Dugi's Ultimate WoW Guide.
This newly updated guide is actually a lot more than a guide - it is a software add-on that provides players with an in-game guide that directs them from quest to quest, from quest pick-up to completion. By showing players exactly where to go and detailing the fastest questing routes to go through, players have been able to move through the levels in record time.
The best part about Dugi's Guide is that the creators have been playing through the beta in order to update their guide for Mists of Pandaria before release. On September 25th, Dugi's Guide members will be able to log in and download the complete Mists of Pandaria update - no need to wait for the developers to update their guide before it is ready to use.
Players from all over Azeroth have been flocking to this guide in preparation for the MoP expansion. In particular, many players were impressed with the posted screenshot that involved a regular player using Dugi's Guide to move from level 1 to 85 in less than 4 days of playtime. If a non-hardcore player can move from 1-85 in that little bit of time using Dugi's Guide, it should not take very much longer to reach 90.