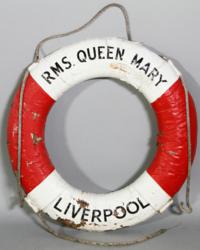 "It is rare to find such a variety of important items in one offering. The breadth and depth of the ocean liner collection is virtually unparrelleled in the maritime field." Gary Robertson, Collectir and Researcher of Maritime Memorabilia
Beverly, Massachusetts (PRWEB) September 26, 2012
Kaminski Auctions is pleased to present an important collection of Ocean Linerartifacts and ephemera amassed over a thirty-year period. This outstanding collection will be presented at auction on Sunday, October 21st starting at 10:00 am at our auction gallery along with other nautical themed additions to the sale.
Full of colorful reminders of the golden days of ocean travel from the 1880's to the present day, these important pieces of our ocean history are directly connected to the passenger and immigrant ships that visited the many historic docks along Americas' coastline.
Never offered at auction before, this important single owner collection includes, vintage full-size life rings from such ships as RMS Queen Mary, RMS Mauretania, SS Leonardo Da Vinci, SS France, SS America, Caronia, USS Leviathan, SS President Cleveland, MV Noordam and many others.
The collection also includes historic life jackets from the RMS Queen Mary, SS United States, SS Normandie and the last voyage of the ill-fated Morro Castle.
Several hundred individual pieces, many one-of-a-kind and extremely scarce, representing 120 different ships comprise the collectable items in the sale. Ephemera includes documents autographed by ship captains, vintage deck plans, period photographs, enameled souvenir spoons and knives, ship pins, pennants, hat ribbons, framed lithographs and numerous examples of on-board stationary.
Famous ocean liners such as the Lusitania, http://www.kaminskiauctions.com/boston-ma/online auctions [Titanic, __title__ ] her sister ship Olympic, and Andrea Doria are well represented in the collection.
All of these items are fully vetted, by Gary Robertson collector and researcher of maritime memorabilia. "It is rare to find such a variety of important items in one offering. The breadth and depth of the ocean liner collection is virtually unparrelleled in the maritime field, said Robinson.
This important collection will be offered for sale on Sunday, October 21st, 2012 at the Kaminski Auction gallery at 117 Elliott Street, Beverly, Massachusetts. Preview times for the sale are Wednesday through Saturday, October 17th-20th, 10:00am -5:00pm. For more information 978-927-2223 or go to http://www.kaminskiauctions.com