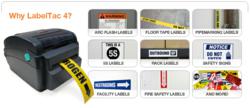 "Labeltac.com representative was very helpful when it came to deciding what label printer we needed for our business. I could not be happier with the LabelTac 4 printer…it's the best in the market!"
Lake Oswego, OR (PRWEB) September 25, 2012
Visual safety signs and labels are mainstream products when it comes to protecting the safety of employees and visitors. Labeltac.com is now offering OSHA safety signs for all types of industrial, manufacturing and office environments. Safety among the workplace is a critical factor when it comes to maintaining a profitable, lean and ergonomic facility. Running a smooth, efficient and safe workplace begins with safety products that visually communicate, instruct and inform.
LabelTac 4 is the original and still best-selling industrial label maker through Labeltac.com. Companies around the nation tend to agree the beginning of a great safety program starts with an industrial label maker that will print out high quality, durable labels for all marking needs around the facility. The LabelTac 4 can print OSHA safety signs on widths up to 4 inches and continuously up to 40 inches long for both small and large projects. Making professional labels is easy and quick with the LabelTac 4 printer. It will print both indoor and outdoor signs that are UV, chemical, weather, water, and wear resistant, and they won't fade or smear over time. The LabelTac 4 comes with everything that is needed to get started and it will quickly hook up to any Word program such as Microsoft Word, Excel, Open Office. If a word program is not available, the printer includes the Bartender label creation software.
Labeltac.com works with clients to make sure a facility receives the correct safety products while retaining value. The professional and experienced representatives are truly qualified to answer all questions about safety products. As one business owner commented, "Labeltac.com representative was very helpful when it came to deciding what label printer we needed for our business. I could not be happier with the LabelTac 4 printer…it's the best in the market!"
Please visit http://www.labeltac.com for more information on quality industrial label printers and labels. Or call toll-free (866)777-1360 to speak to a professional representative.