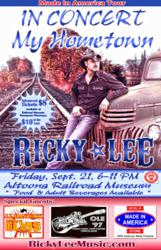 Everything Ricky Lee and I do on behalf of this mission is in gratitude to God above and to the veterans who fought for our freedom. We are keenly focused on a future of peace and prosperity for our children
(PRWEB) September 21, 2012
"It all started in Altoona," says Made in America Store founder Mark Andol when asked how his collaboration with Altoona native Ricky Lee began. "Altoona native Bill Brantner, a war hero who fought for our country in three different conflicts – Vietnam, Persian Gulf and Operation Iraqi Freedom – is the man responsible for bringing Ricky and me together."
Andol described Bill Brantner's response to a feature story about the Made in America Store published in The Altoona Mirror in spring of 2010. The story focused on Mark Andol's "revolutionary" idea to open a store that exclusively sells 100% American Made products – down to the packaging. The first and only Made in America Store opened on April 3, 2010, in the Town of Elma near Buffalo, New York.
Brantner's friend, Nashville recording artist Ricky Lee, had recently recorded a patriotic CD titled "Freedom." One of the tracks, "Made in America," captured the same frustration over the loss of American jobs and expressed hope for the future if Americans would buy and manufacture American products once again. Brantner knew he had to get these two patriots together.
Andol received a handwritten letter from Brantner, together with a demo CD, and was greatly moved by the veteran's introduction of Andol to Ricky Lee's patriotic compilation of songs. Shortly after, Andol and Ricky Lee spoke by phone and hit it off immediately. The very same day, Ricky headed to the Made in America Store, guitar in hand.
On June 23, 2010, the two met, and Ricky Lee delivered an impromptu rendition of "Made in America" at the Made in America Store. Customers and employees were entertained and inspired by Ricky Lee's patriotic tune. This performance was captured on video by an employee with an I-Phone.
The Made in America Store has been read about, heard and seen on ABC World News with Diane Sawyer, FOX & Friends, NPR, USA Today, The Saturday Evening Post, FOX Business (Lou Dobbs), Channel One Russia, The New York Post, Yomiuri Shimbun Newspaper and NHK World TV (Japan), The Wall Street Journal, KBS World TV (Korea) and Associated Press Articles published in hometown newspapers – including The Altoona Mirror – across the country.
Pick up Ricky Lee's complete line of 100% American made CDs by clicking here!
Fast forward to September 2012, in just two years, the Made in America Store has expanded four times and acquired an adjacent building to be used as a World Distribution Center for American-Made Products. Mark Andol has sponsored numerous Ricky Lee concerts, primarily in Western New York. Among the most poignant performances was Ricky's acoustic concert at a Homeless Shelter for Veterans in Buffalo. Veterans represent the highest percentage of the homeless population in the U.S.
Andol is now doing site visits for his second brick and mortar store. The first store – in Elma – remains the only general merchandise store in the country with the 100% American Made guarantee. To date, more than 125 tour buses have brought visitors to the store from as far as San Diego, California. The store regularly hosts tour buses from the Midwest, Ohio and Pennsylvania.
Since Pennsylvania is such a strong tourist market for the store, including on-line sales, it makes sense to scope out a brick and mortar location for that state. Altoona is in the mix, to be sure, but other cities and communities in PA have also sought out a store.
The Made in America Mobile Store will afford the citizens of Altoona the opportunity to shop top-selling items from the New York location, which now carries 4,500 products displayed in 6,000 sq.ft. of All-American retail space. The support of local residents is a key factor in determining the location of the second and all future stores, so Sept. 21 & 22 will offer a "dress rehearsal" for the community to show its interest in a retail attraction that would bring many benefits to Altoona, including increased tourism.
Ricky Lee is well-known to veteran circles, having been sponsored by VFW National and having performed at the National Meeting in Indianapolis, IN. Ricky Lee has entertained veterans and troops at in venues as far as California.
Together, Mark Andol and Ricky Lee share the mission of the Made in America Store, so beautifully expressed through Ricky Lee's music – "for country, for soldier, for American worker." "Everything Ricky Lee and I do on behalf of this mission is in gratitude to God above and to the veterans who fought for our freedom. We are keenly focused on a future of peace and prosperity for our children," Andol concluded.
The Made In America Store is the only brick and mortar store that sells 100% made in the United States products from over 350 vendors. Consumers can visit http://www.MadeInAmericaStore.com or call 716-652-4872 to get more information or shop our catalog of over 3,500 items. Both Active Duty Military Personnel and U.S. Military Veterans receive a 10% discount every day. Followers of the "Made In America" movement can keep updated with the Made In America Store through Facebook, Twitter, Google+, Pinterest, FourSquare and even their own blog on Wordpress!