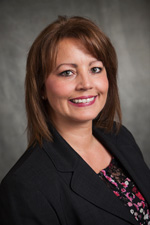 Minneapolis, MN (PRWEB) September 22, 2012
Gary Holmes, CSM Corporation president and CEO, congratulates VP/Chief Accounting Officer Chris Fodor on receiving the inaugural Business & Industry Member Award from the Minnesota Society of Certified Public Accountants (MNCPA). The award acknowledges her outstanding work and professional achievements as a CPA working in business and industry.
Holmes adds, "We're proud to see this recognition for Chris. She's had great successes with our systems, producing information which are more aligned with the company's business needs and forecasting. Her recent promotion – this past June – was a natural extension of her value throughout the organization."
A statement from MNCPA included, "The accomplishments of Fodor, a 23-year member of the MNCPA, are particularly notable during her five-year tenure at CSM Corporation in Minneapolis, a privately-held real estate company. As vice president and chief accounting officer for the company, Fodor has led the reorganization of its accounting structure into one function and implemented systems and procedures to automate and ensure accurate financial and management reporting in an efficient and timely manner."
MNCPA Chair Barbara Steinhauser will present the award to Fodor during the Society's Celebrate CPAs Awards Luncheon on Sept. 20 in St. Paul.
About CSM Corporation
CSM Corporation engages in the acquisition, development, leasing, management, and ownership of quality real estate assets. Founded in 1976 and headquartered in Minneapolis, MN, CSM's extensive portfolio includes retail, industrial, multi-family residential, and hotel properties across the continental United States. For more information visit http://www.csmcorp.net.