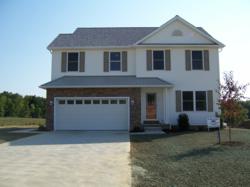 Erie, PA (PRWEB) September 22, 2012
Port Harbor Homes, a trusted custom home builder in the northwest Pennsylvania, western New York and eastern Ohio areas, is pleased to announce that it has added several distinctive new materials to its 2012 home designs. One of the new floor plans, which is showcased at 8720 Sunset Trail in Erie, features creative, contemporary elements using modern materials.
A new flooring option not previously seen in Port Harbor homes is a hand-scraped bamboo flooring, which is sustainable and eco-friendly. Another new focal point of this beautiful home is the onyx tile backsplash in the kitchen. A mounted design of glimmering, honey-colored onyx tiles perfectly compliments the maple cabinets and stainless steel appliances.
Visitors have discovered that the most unique new design feature is the glass wall enclosing the stairwell and the inset lighted display shelves. Customers can also choose from a selection of contemporary light fixtures, marble fireplace tile, recessed lighting, framed mirrors, contemporary doors and much more.
While Port Harbor homes are built to exacting standards, it is often the details, both subtle and not so subtle, that make their homes attractive to so many clients. From the flooring to tile and other elements, customers can create their personal style and still stay within their budget by choosing from a wide array of materials in different price ranges.
For further information about Port Harbor homes and to view floor plans and photos of recently completed homes, visit Port Harbor Homes' website at http://www.portharborhomes.com. For more information and photos of the new 2012 design features, including details about new materials for the exterior of the home, click on the 8720 Sunset Trail tab under What's New on the company's homepage.
About the company:
Port Harbor Homes' goal is to provide high quality, traditionally built homes for families of all budgets and lifestyles. They offer stock plans that can be customized for their customers' needs, or they can design a totally new and unique plan to accommodate any lifestyle. For more information visit their website at http://www.portharborhomes.com.