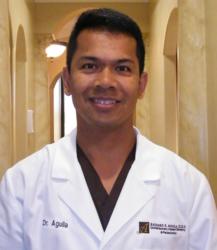 Jacksonville, FL (PRWEB) September 21, 2012
Dr. Richard E. Aguila restores gums for periodontal patients with modern gum grafting procedures. When the gum line is low because of gum disease or other issues, a person may stop smiling because they don't like the way the gaps in the gum line look. In addition, teeth may become loose and may even be lost. With the use of gum grafts, Dr. Aguila can even-out and raise the gum line for a more pleasing smile.
When bacteria are allowed to stay in the mouth and turn to plaque, if the plaque is not removed, the bacteria can multiply and begin to cause problems. If this periodontal disease is allowed to progress, gaps can appear between the teeth and the gums can begin to recede. Sometimes they will recede along several teeth and other times just near one or two teeth. As you can see, periodontal disease can cause many problems. If you have receding gums you can get gum grafts to increase the gum height.
There are three types of gum grafts, but the basic idea is similar with all three procedures. Tissue is taken from elsewhere in the mouth and attached to the low gum area. The new tissue is stitched in place and grows together with the existing gums. The exposed teeth are protected by the new tissue, which helps to reduce issues with loose teeth that can occur when the gum line recedes.
The gum grafting procedure is not for everyone, but can assist those who are good candidates. To learn more about this procedure and the problems that can occur with periodontal disease, go to http://www.laseranddentalimplants.com.
Richard E. Aguila, D.D.S is a periodontist offering patients personalized dental care for Jacksonville, FL since 2010. Dr. Aguila received his Bachelors of Arts degree in Chemistry and Doctor of Dental Surgery from West Virginia University. He completed a hospital-based General Practice Residency at the Naval Medical Center- San Diego. He practiced general dentistry in the Navy for six years before pursuing his specialty training in periodontics and dental implant surgery at the Medical University of South Carolina. During this time he obtained his Certificate in Periodontics and Masters in Health Sciences with honors. Dr. Aguila has been practicing periodontics and dental implant surgery exclusively since 2001. He is part of one percent of dental professionals providing the most recent FDA cleared laser procedure for gum disease and periodontal treatment. To learn more about Richard E. Aguila, D.D.S and his dental services visit his website at http://www.laseranddentalimplants.com and call (904) 638-7980.