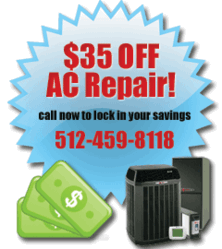 We value each of our customers and ensure that the customers get complete satisfaction through our services.
(PRWEB) September 22, 2012
The heat of the Austin, Texas summer is starting to die down as cooler fall temperatures roll in. Though there is never a wrong time to have an air conditioning unit get a checkup, right after summer is one of the ideal times for air conditioning service. AC units work overtime throughout the summer pumping out fresh, clean and cool air to keep a homeowner's interior sustainable. That hard work can create excess buildup and wear on small parts. With a fall air conditioning service, homeowners can ensure that their unit is up to par and ready to take on the temperatures of fall as well as the upcoming summer.
Why Schedule an Air Conditioning Checkup?
Homeowners have two reasons for ordering an annual AC maintenance: money saving and money saving. By having a trained technician look over their AC units, small issues can be caught before they turn into large air conditioning repairs. For example, a small refrigerant leak can be inexpensive to repair, but once the compressor burns out, homeowners are looking at a very costly air conditioning repair. Another way an AC maintenance visit saves homeowners money is by helping ensure that their unit is running efficiently. When HVAC units run efficiently, they will consume less energy, which means bigger savings on a homeowner's monthly utility costs.
Schedule a Fall HVAC Service Today!
Air conditioning maintenance and checkups are easy to schedule. All a homeowner needs to do is contact their local HVAC technician to come out and perform a fall checkup on their HVAC unit. The best time to do an HVAC unit is right after summer and then again right after spring. By knowing their unit is healthy before it powers down for the winter and ensuring it is healthy before powering up for summer, homeowners can save significantly on their monthly air conditioning service costs and overall utility costs. Scheduling an AC service is simple and technicians will work around the homeowner's schedule.
Waiting until the start of summer means longer schedule times and the potential for hefty AC unit repairs if problems were left to persist all fall, winter and spring. This fall, homeowners can save big and use their excess savings for next year's summer vacation with an annual air conditioning service checkup by their local Austin, Texas HVAC repair company.
About Autumn Heating & Cooling
Autumn Heating & Cooling is a popular heating and air conditioning Austin company that provides top quality heating and air conditioning installation and repair services at the most affordable rates. Air conditioning service provider for the entire Austin metro area, including Round Rock, Cedar Park, Leander, San Marcos, Pflugerville, Georgetown, Lakeway, Hutto, and more. Autumn Heating & Cooling provides customers with top of the line products and free service estimates.
Autumn Heating and Cooling
2001 Windy Terrace
Cedar ark, Texas 78613
512-459-8118