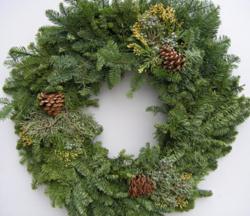 Kalamazoo, MI (PRWEB) September 21, 2012
It was ten years ago when the owners of Christmas Farms decided to take a risk and start selling their Christmas trees, wreaths and garland online. At the time, it was a cutting edge concept. No one was really selling Christmas wreaths or live Christmas trees online yet. Back in 2002, there was an estimated 590 million users of the Internet. In 2012, that number has jumped to over 2 billion users. Total number of dollars spent online has jumped from 72 billion in 2002 to a predicted total of 300 Billion dollars in 2012. That's some growth! And with that growth of the online market, Christmas Farms flourished.
Despite the constant technological changes and the economic down turn several years ago, people still love fresh Christmas trees, wreath and garland. Since 2002 Christmas Farms has kept a single focus, and that is providing the fresh and beautiful Christmas wreaths and other decorations to Christmas lovers all over the country. Christmas Farms continues to offer free delivery of all of their products across all 48 continental United States. This is great for anyone who lives in the southern states where you may not be able to drive down the road and find people selling Christmas trees in a businesses parking lot.
When Christmas Farms started, the products line consisted of 3 different trees, 2 varieties of wreath, a single style swag, and one type of garland. Fast-forward 10 years, Christmas Farms offers almost 150 different fresh products. The biggest change during the last 10 years has been the introduction of unique floral quality wreaths that were designed by the owners of Christmas Farms. In addition to the wreaths, fresh greens and winterberries have become a favorite of Christmas Farms customers.
One thing that hasn't changed much are the families who run Christmas Farms. Company operations and customer service is still run by the same core group of people, all working hard to make Christmas a little fresher for thousands of people each year.
To learn more about Christmas Farms and how to order fresh, live Christmas trees, wreaths, and garland online, visit http://christmasfarms.com.