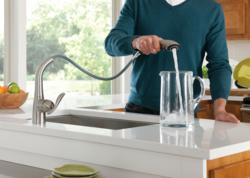 "The system pairs meaningful, user-friendly innovation with Moen's most stylish kitchen faucets for the ultimate combination of form and function."
North Olmsted, Ohio (PRWEB) September 21, 2012
The number one faucet brand in North America has adapted its best, most user-friendly pulldown kitchen faucet system – Reflex® – to work with pullout faucets. The Moen Reflex system naturally responds to the user, now delivering a great pulldown and pullout kitchen faucet experience, with a comprehensive system of design enhancements focused on improving movement, reach and operation.
"With Reflex, we looked at the entire pulldown faucet system – from the inside out," said Laura Garland, product manager – wholesale kitchen. "It was a natural step to apply the same type of technology to our pullout models, allowing consumers to experience a truly intuitive kitchen faucet that responds to their movements and helps them to accomplish everyday tasks, while maintaining its beautiful form."
Reflex addresses and improves upon three key components of the pullout kitchen faucet experience:
1) Exceptional Range of Motion
Reflex features an ultra-flexible hose, enabling exceptionally easy maneuverability. The system also includes an enhanced ball swivel joint between the hose and wand, providing range of motion to easily direct the flow of water exactly where users want it.
2) Generous Reach
The ample hose length found in Reflex faucets allows users to effortlessly accomplish tasks in and around the sink. Now, filling a nearby coffee pot, replenishing the dog's water or cleaning hard-to-reach corners of the sink can be achieved with minimal effort.
3) Smooth & Secure Retraction
The Reflex System ensures the faucet's pullout sprayer travels easily in and out of the faucet, but holds firmly in place when not in use.
The first pullout models to feature Reflex are the transitionally styled Arbor® pullout kitchen faucet and the elegant, traditional Brantford™ pullout kitchen faucet. This innovative system will roll out to other Moen pullout kitchen faucets throughout 2012.
"With Reflex, users get the best of both worlds," said Garland. "The system pairs meaningful, user-friendly innovation with Moen's most stylish kitchen faucets for the ultimate combination of form and function."
For the more information about the new Reflex pullout system from Moen, visit moen.com/reflex or call 1-800-BUY MOEN (1-800-289-6636).
###
About Moen
As the #1 faucet brand in North America, Moen offers a diverse selection of thoughtfully designed kitchen and bath faucets, showerheads, accessories, bath safety products and kitchen sinks – each delivering the best possible combination of meaningful innovation, useful features, on-trend styling and lasting value.
Moen is part of Fortune Brands Home & Security, Inc. (NYSE: FBHS), which creates products and services that help fulfill the dreams of homeowners and help people feel more secure. For more information, please visit http://www.fbhs.com.
Contact:
Jennifer Allanson or Jamie Dalton
Falls Communications
(216) 696-0229
jallanson(at)fallscommunications(dot)com or
jdalton(at)fallscommunications(dot)com