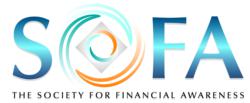 "Families are facing challenging times in regards to their financial security," said Representative Alvarado "This workshop will ensure that attendees leave with basic financial understanding that they can apply to their personal situations. It is nev
Houston, TX (PRWEB) September 21, 2012
The Houston Midtown chapter of the Society for Financial Awareness (SOFA) announced today that State Representative Carol Alvarado will team up with SOFA President Christopher Hensley to deliver a powerful message on fighting financial illiteracy to Houstonians. The seminar will take place this Saturday, September 22nd from 10:00am to 12:00pm at the Learning Hub Auditorium at the Houston Community College Southeast Campus, located at 6815 Rustic Ave, Houston, TX 77087.
The Financial Education Seminar, titled "Getting Fiscally Fit/College Planning" aims to educate Houstonians on financial planning and cash management. Some of the highlights of the talk will be: basic principles of cash management, accumulating wealth, locating & maximizing discretionary income, how to address the high cost of college and the new Educational IRA. The seminar is free and open to the public.
"Many families are facing challenging times in regards to their financial security. It is important that individuals are provided the proper tools and resources to manage their own finances and prepare for the future, " said Representative Alvarado. "This workshop will help ensure that attendees leave with a basic financial understanding that they can apply to their personal situations. It is never too late to become fiscally fit. "
The Society for Financial Awareness is a national non-profit educational speaker's bureau that provides financial education to businesses, places of worship, civic organizations, city and federal governments, as well as other non-profit organizations. SOFA's mission is to end financial illiteracy, one community at a time, by conducting financial education workshops across the country.
If you would like SOFA to host a workshop at your company or organization, or if you would like more information about this event, please visit http://www.houstonmidtownsofa.bbnow.org, or contact Christopher Hensley, SOFA's President, at (832) 231-9697.