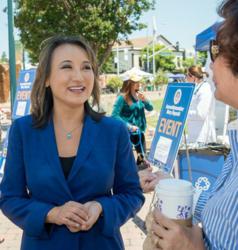 I would like to thank the Governor for signing AB 2478, and standing by our Veterans
Sacramento, CA (PRWEB) September 20, 2012
Assemblywoman Mary Hayashi (D-Hayward) announced today that California Governor Jerry Brown has signed her bill, AB 2478.
AB 2478 extends the current exemption given to veterans from paying non-resident tuition at California Community Colleges by one year, providing them with additional time to establish residency in the state.
"I would like to thank the Governor for signing this bill, and standing by our Veterans," stated Assemblywoman Mary Hayashi. "Nearly half of newly separated Veterans are under the age of 24. These young veterans have sacrificed so much for our country, and they deserve a fair opportunity to attend one of the best higher education systems in the world. California's community colleges are well-known as a key pathway to career success, and AB 2478 will give Veterans the chance to access this affordable, high quality education, leading to a fulfilling and productive life after-service."
Governor Brown signed several other bills related to veterans today, stating "Here in California, Republicans and Democrats joined together to support our veterans. These bills respect the honor and dignity of those who serve."
Current law waives out-of-state tuition fees for one year for veterans discharged from a military facility in California. This allows a veteran to pay in-state tuition for one year from the date of their discharge, no matter their home state. One year is also the amount of time that California requires any prospective student to live in the state to establish residency and be eligible for in-state tuition rates.
Veterans, however, often need to return to their home state after being discharged and may not be able to immediately start their education in California. Veterans may suffer from injuries or disabilities, which need time to heal prior to attending college and transitioning to civilian life. When these Veterans subsequently move back to California, they will have lost a portion or all of their one-year in-state tuition benefit, but they are still subject to the one-year requirement of establishing residency. These Veterans often end up paying the same tuition as international students.
AB 2478 will allow a Veteran to be exempt from paying nonresident tuition for up to 2 years after their discharge from a military installation in California, instead of just one. Veterans must file an affidavit with the community college stating that he or she intends to establish residency in California as soon as possible. By providing Veterans with more opportunities to obtain an college education, increase job skills and improve their employment outlook, AB 2478 aligns with President Barack Obama's initiatives to address the needs of Veterans.
Assemblywoman Mary Hayashi serves the 18th Assembly District, which includes San Leandro, Hayward, Dublin, most of Castro Valley and Pleasanton, and a portion of Oakland, as well as the unincorporated areas of Ashland, Cherryland, San Lorenzo and Sunol.
# # #